Program Overview
Campus Sustainable Impact Fellows are a highly self-selected cohort of undergraduate and graduate students from all disciplines across Lehigh University, focused on addressing challenges tied to the UN's Sustainable Development Goals on Lehigh University's campus. CSIFs advance multi-year Inquiry to Impact (I2I) projects with local partners through Creative Inquiry (CINQ) courses for a total of six credits (three each semester). The courses, workshops, retreats, and immersive experiences of this program integrate experiential learning, research, and entrepreneurial engagement with students leading original and ambitious projects with partners on campus and in the local region. A select number of CSIFs will have the opportunity to participate in the Mountaintop Summer Experience to accelerate their project.
Through engaging in such meaningful, authentic, and incredibly alive projects, Fellows develop skillsets, mindsets, and portfolios to address complex sustainability challenges. Fellows build sustainable enterprises, publish their works in peer-reviewed journals, integrate their insights into campus policies, and champion sustainability practices that will influence present and future generations of Lehigh students, faculty, and staff. The quest for sustainable impact drives the philosophy, pedagogy, and operations of this program with the objective of preparing students to lead lives of impact.
Program Benefits: What's In It for Me?
An opportunity to work collaboratively with the most driven students from across the university on ambitious multi-year projects striving to enhance Lehigh's sustainability commitment.
Work in an interdisciplinary manner with campus peers and partners to develop practical, innovative, and sustainable solutions that will create tangible, systemic changes to university operations.
Further your university's goals of being a model sustainable campus adhering to the United Nations Sustainable Development Goals. 
Engage in hands-on fieldwork with faculty mentors with decades of experience conducting research, designing solutions, and building systems.
Conduct original research and get your work published in journals and conference proceedings. Travel to conferences to present your work and build your professional network.
Develop your life skills and build life-long friendships with peers at Lehigh and with some amazing people on our campus.
Distinguish yourself and become more competitive for prestigious fellowships and awards, graduate / professional schools, or that dream job.
Impact! Conducting research, developing and effecting policy solutions, and jumpstarting new sustainability practices is incredibly difficult but also deeply rewarding.
Campus Sustainable Impact Fellow Logistics: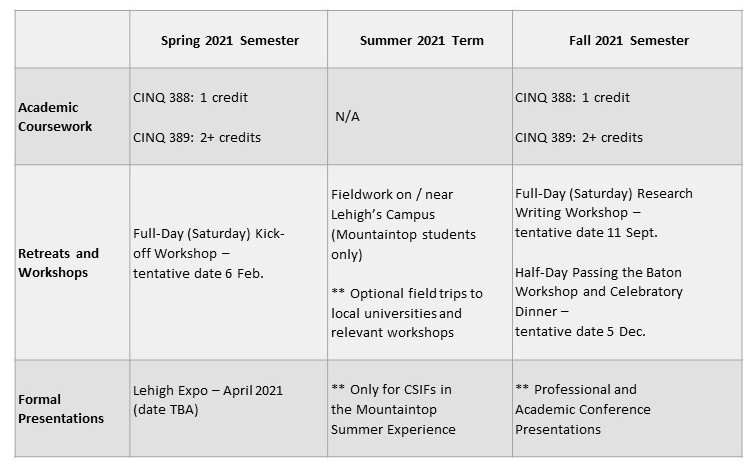 ***Unless marked as optional, CSIFs are expected to participate in all courses, seminars, and workshops. No exceptions.
CINQ 388: Inquiry to Impact Workshop Series [1 Credit]: Weekly hands-on workshops and interactive seminars for all Fellows across all the CSIF projects.
CINQ 389: Inquiry to Impact Projects [2-6 Credits]: Separate sections for each project team. The team typically meets with the faculty mentor once a week; all project work is done outside of regular class times.
All full-day workshops will be held on weekends or holidays; meals will be provided if events are held in-person.
Each team has the option of having a two-person team take a deep dive into the project for the Mountaintop Summer Experience. Additional students might be funded depending on project needs and availability of funds.
Application Process
We don't expect applicants to know how to do these things. Just come prepared to learn.
Certain skills matter and are needed, but what we are looking for is passion, deep commitment, and work ethic. GPAs don't matter...much.
You should have the time in your academic and personal schedule for this commitment - don't overload just to do it.
2021 Campus Sustainable Impact Fellowship Projects
Thinking Outside the (Lunch) Box: Establishing a Food Carbon and Water Footprint (PI: Don Morris, Environmental Studies; Co-PIs: Katharine Targett Gross, Sustainability Officer, and Lauren Sleeger, Lehigh Dining)
Have you ever thought about the carbon and water footprint of the foods you eat at Lehigh?  In this project, students will continue to develop a food carbon footprint and water footprint calculator that suits Lehigh Dining's needs to determine which menu items are the most and least carbon and water intensive.  This will allow Lehigh Dining to provide a carbon and water footprint (red - high, yellow - medium, green - low) for key menu items at dining locations across campus.  This will encourage students, faculty, and staff to choose to alter their food choices based on the impact of the menu item.  The students will determine how to expand the calculator to make it more sophisticated, how to add a food's water footprint, and how to transition away from national averages.  The ultimate goal is to make this a national, open source model for other colleges/universities to use. We specifically need students with 1) marketing / graphic design skills, 2) 2) data management and analysis skills, 3) coding skills, and 4) business / operations and systems engineering skills. **Students on this project team may enroll in Environmental Studies credits in place of CINQ 389 for both semesters**
Mountain Hawk Prints: An Energy and Water Dashboard (PI: Arindam Banjeree, Mechanical Engineering; Co-PIs: Edwin Yeakel, Computer Science & Business, and Jeremy Mack, LTS)
Different campus buildings use different amounts of energy and water. Lehigh is driven to understand its buildings so that we can increase energy efficiency, conserve water, promote data-driven decisions, reduce greenhouse gas emissions, and save money. Through this project, the student team will create a public-facing energy and water dashboard. The project team will include several key attributes including: an interactive campus map where one can filter by building type and show building attributes and energy usage/EUI and water usage, show submeter data (when available), monthly and annual usage graphs for each building, downloadable data sets, relatable comparisons to put data into perspective, GHG emissions associated with energy usage etc. This dashboard will provide easily accessible building energy and water data for faculty and students for course projects. All majors welcome, but students with skills in programming/coding and communications/marketing are particularly encouraged.
PlasTech Ventures – Transforming Lehigh's Plastic Recycling Stream by Producing Usable Products (PI: Ganesh Balasubramanian, Mechanical Engineering; Co-PI: Brian Slocum, Wilbur Powerhouse Design Labs)
This project aims to transform Lehigh's plastic recycling on campus by building a micro-recycling facility. The inputs at this on campus facility would be plastic water, soda, and juice bottles and the output would be a useful end-product such as a landscape brick. This end-product could be used by BrightView throughout campus in order to make Lehigh's landscaping more local and sustainable. Students will develop marketing signage to promote the locally sourced bricks throughout campus. This project mirrors the Global Social Impact Fellowship project of the same name which works in the Philippines. All majors welcome, but we have specific needs for students with an understanding of mechanical engineering, materials science, and/or supply chain management.
Thinking Holistically About Energy: WATT Can Lehigh Do? (PI: Carlos Romero, Energy Research Center)
This project aims to have students think more efficiently and sustainably about energy management within Lehigh's academic, administration, and residential buildings.  Students will explore various efficiency options including developing smart sensors for lights, HVAC system, and window shades. Students will explore and test out various options that could be implemented in future campus construction projects and building renovations. In addition, students will explore additional renewable energy sources on campus, including a study of solar on parking canopies, and will put a proposal together to move the recommendations forward. All majors welcome.
Rain Harvesting: Exploring Ways to Harness the Resource (PI: Ethan Yang, Civil & Environmental Engineering)
Climate change is one of the largest challenges of our lifetime and it will have far reaching impacts if left unaddressed. Projections from the 2020 April Pennsylvania Climate Impacts Assessment Update show that average rainfall and extreme precipitation will increase 8% to 12% in the region. How do we mitigate against the threat of floods? Flooding can cause economic and structural damage that takes years to recover from. Green Infrastructure (GI) elements like rain barrels and green roofs can reduce this damage significantly. This project will work to upgrade GI on Lehigh's campus, ultimately becoming a model for GI upgrades city- and nation-wide. All majors welcome, particularly students with interests in civil engineering, environmental policy design, architecture, and/or chemical engineering.
Reconnecting Our Constructed World to Nature: Prototyping Lehigh's First Ever "Living Wall" (PI: Nicholas Sawicki, Art, Architecture & Design; Co-PIs: Brian Slocum, Wilbur Powerhouse Design Labs, and AAD faculty)
This project aims to design a prototype for a campus "living wall" that could be scaled for use in future buildings, e.g. the University Center renovation. A "living wall" is a way for industrialized, urban centers to bring back their connection with the natural world and create environments for people to live, work and learn. By consciously including nature in interior or architectural design, we are unconsciously reconnecting; bringing the great outdoors into our constructed world. Through this project, students will design a prototype - different designs can be tailored to have different effects, determine the ideal plants for the "living wall", consider the possibility of a productive "living wall," evaluate the environmental benefits, and determine the impacts on social and emotional well-being. All majors welcome, particularly those students with an interest in structural engineering, plant biology, design, and/or architecture.
Waste Not, Want Not: Creating a Biodigester for Lehigh's Campus (PI: Jennifer Swann, Biological Sciences)
One of the major problems facing our society is how to dispose of the waste we create. Allowing organic waste to degrade in anerobic environments such as landfills creates methane, a potent greenhouse gas that contributes to climate change and can be an explosion hazard if the landfill is not properly managed. A promising approach is to capture the gas and use it as fuel. Contraptions that do this – biodigesters - are simple to build and easy to use. The goal of this project is to generate a biodigester for dog waste and to prototype it on Lehigh's campus, for future implementation around Lehigh Valley parks. We propose that a biodigester is an alternative solution that allows the waste to degrade and, by capturing the methane produced and burning it to generate electricity, helps to reduce energy use. All majors welcome, particularly those with strong interests in environmental studies, systems engineering, and materials science.
The Future of Lehigh Transportation: Thinking Innovatively and Creatively (PI: Frank Pazzaglia, Earth & Environmental Sciences)
Think outside the box to explore innovative and creative transportation options for Lehigh University.  What should transportation at Lehigh look like in 5 years and in 15-20 years?  Who is traveling up and down the mountain and when?  Through this project, students will think beyond electric buses and investigate various sustainable transportation options that would work given Lehigh's three campuses and its hilly topography.   They will also collect and analyze data and look at the different approaches from a cost/benefit perspective. E.g. putting in a gondola (like Walt Disney World and Rio de Janeiro) to connect all three campuses using renewable energy, monorail, autonomous vehicles, etc.