What are Inquiry to Impact Projects?
Inquiry to Impact Projects pursue creative and innovative answers to societal challenges and open-ended questions in multidisciplinary teams with students, faculty, and external partners. These multi-semester projects span the journey from creative inquiry to sustainable impact. Students develop their competencies for independent inquiry and discovery, multidisciplinary teamwork, design thinking, entrepreneurial thinking, systems thinking, and getting stuff done.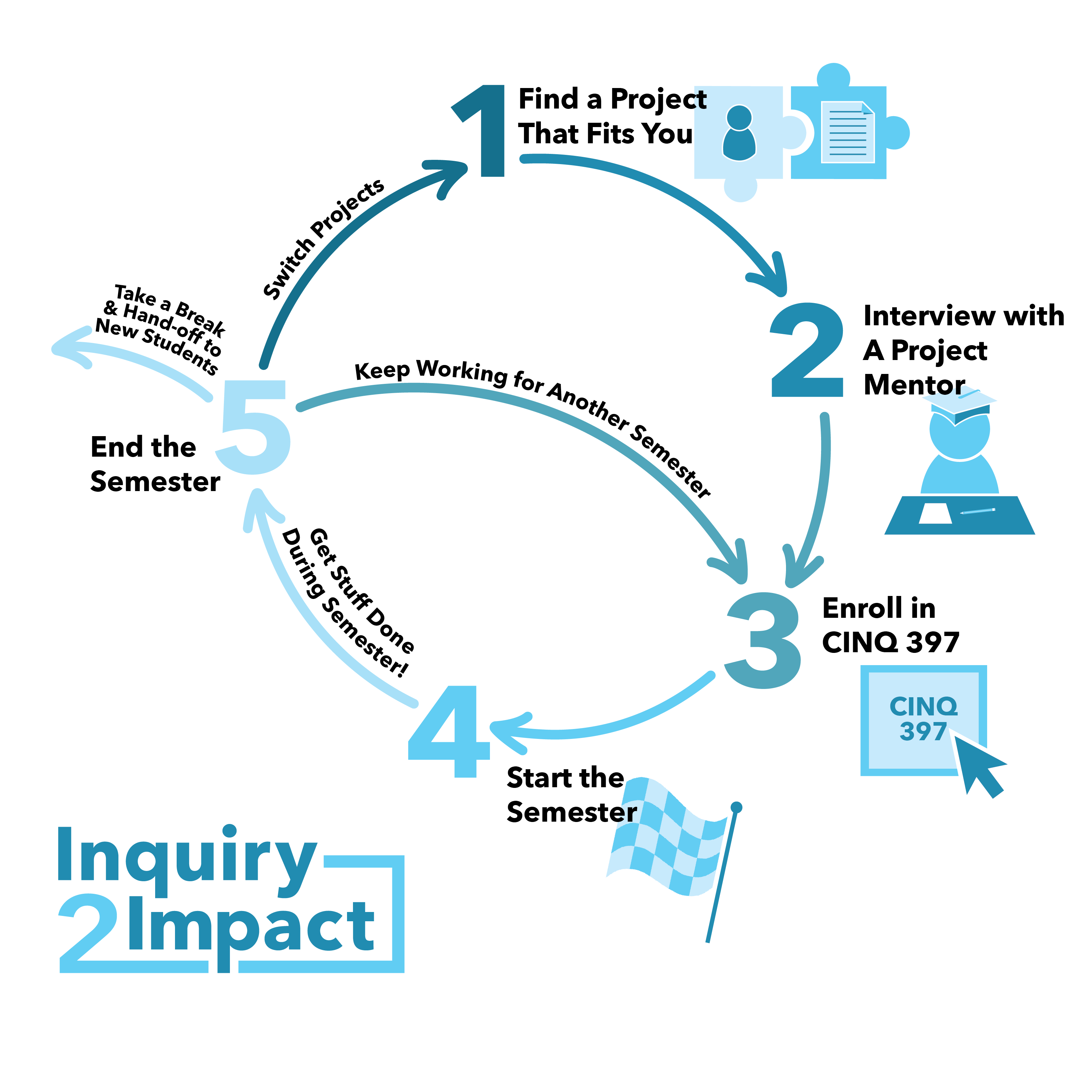 Spring 2019 Inquiry to Impact Projects
Assessing Socioeconomic Factors Underlying Ebola Infection (G)
In this project, the final goal is to develop and implement a cellphone app that doctors can use to register socioeconomic factors and habits of Ebola patients in Sierra Leone. Students will first conduct interviews with local doctors and then develop a phone app. In phase two, students will meet with health officials to help the distribution/implementation of this tool among doctors in the country. Lead Mentors: Paolo Bocchini and Javier Buceta
This project will write and produce a play based on the experiences of currently and formerly incarcerated people. We will measure the production's impact on audience members' opinions of these issues before and after the performance. This is truly an exploration of how applied theater can motivate a diverse community to become mobilized in political reform. Lead Mentors: Karen Beck Pooley and Bill Whitney
Causes of River Meandering
River meandering has been attributed to the erosion and deposition of sediments along river banks, yet the fundamental cause of the instability has not been heretofore identified. We plan to show that meandering in all systems is driven by the existence of an adverse pressure gradient, such that the resulting deceleration imposed upon the fluid causes it to be energetically favorable to divert the flow to either side of its original direction. Lead Mentors: Dork Sahagian and Panos Diplas
Corporate Social Responsibility, Development, and NGOs (G)
The 2013 Companies Act in India introduced new provisions requiring companies to give annual donations under Corporate Social Responsibility (CSR). This project aims to understand how the law is shaping the development sector in India by examining the partnerships between corporations and NGOs. Students will be able to conduct some research initially through video conferencing and online, followed by in-country research to study the particular projects that offer exemplary potential. Close observation and participation in these projects will be used to develop best practices in this new development arena. Lead Mentor: Nandini Deo
Creating a Biobank Network
Biobanks—storage facilities for biomedical supplies—are currently independent operators without a connected network to share information and locations. This project aims to eliminate that hindrance by creating a new mechanism for biobanks and those in need of biological material to find one another and conduct needed exchanges. Lead Mentor: Ana Alexandrescu
Forging Ahead through Engineering Leadership
Erwin and Ludwig Loewy changed the world with their engineering innovations in metal forming. This project will develop an interactive exhibit to maximize understanding of the Loewys' technical accomplishments. Resources include the Loewy archives at Lehigh, a potential visit to company where forging presses are still in operation, and opportunity for partnership with the National Museum of Industrial History in Bethlehem. Lead Mentors: Scott Garrigan and Wojtek Misiolek
Malnutrition in Children Under Five in Sierra Leone (G)
Malnutrition and micronutrient deficiencies are common in Sierra Leone, especially among children under five years of age. The focus of this project is to study the causes of the problem and identify potential solutions, such as developing highly nutritious foods that are appealing to young children. The project has both technical and business components. Lead Mentors: Lori Herz and Janos Pinter
Mushroom Production Systems (G)
Refining and proliferating mushroom production houses for Sierra Leonean farmers, to be utilized as a source of income and a cash crop when others are not accessible. Following successful field work in this area in Cambodia in summer 2017 and Sierra Leone in summer 2018, members of the team will analyze data gathered from this fieldwork to conduct further tests and build networks. Lead Mentor: Khanjan Mehta
Negotiating Privacy Boundaries
In this increasingly networked world, it has become more challenging to protect private information concerning both the individual and the groups that one belongs to. Managing shared boundaries online is almost impossible using the existing mechanisms and strategies. This project aims to develop new understanding and create new tools to facilitate collaborative privacy management in online scenarios. Lead Mentors: Haiyan Jia, Eric Baumer, and Ting Wang
The Neurogenetics of Creativity
We are exploring the genetic underpinnings of differences between individuals, and introducing proteins into genetic animals to test whether mutant versions can restore functioning as well as normal versions. This project can explain why some have difficulty overcoming traumas and fears, and ultimately help to maximize potential and allow people to live their most creative lives. Lead Mentors: Julie Miwa and Frank Zhang
Parent-Child Communication Coding
This project aims to develop a coding scheme that will capture the quality of parent-child communication in video during an 8-minute conversation between mothers and children. The goal of the project is to find differences in language use and non-verbal communication strategies across ethnically diverse high-risk mother-child pairs. Our coding scheme will be made available to other researchers who do work on ethnically diverse families. Lead Mentor: Debbie Laible
How can we develop and design simple urban spaces to build community and increase quality of life? This project will build on the Parklet movement by designing and installing inexpensive Parklets in Bethlehem, testing their effectiveness, and planning ways to replicate the project at other locations throughout the city. Lead Mentor: Karen Beck Pooley
This project aims to provide income opportunities for women in a partnering local community (Malabon, Metro Manila, Philippines) by building a plastics recycling facility based on the design of David Hakkens, founder of Precious Plastics. The facility will house various recycling machines with open-source designs to be built by students. The project involves three phases: (1) needs assessment and market research, (2) fabrication of appropriate machines, and (3) technology transfer and training. Through this project, women in the community will be manufacturing up-cycled products themselves, thus emphasizing gender equality and empowerment. Aside from finished goods, useful raw materials may also be made and supplied to local manufacturers to turn into high-value products. Lead Mentor: Ganesh Balasubramanian; Co-Mentors: Brian Slocum, Wesley Heiss, Don Morris, Khanjan Mehta
Safe Motherhood in Sierra Leone - Documentary Film (G)
Although Sierra Leone has the highest maternal mortality rate in the world, the nation has also built a resilient health care system in an attempt to address this crisis. This team will be researching how Sierra Leone has worked to confront this issue and establish a functional health care system. Our goal is to produce a festival-ready documentary film. All majors are welcome and you need not have filmmaking experience to participate. Lead mentor: Michael Kramp
This project will continue with interview and filmed material initially developed Summer 2018. In Spring 2019 students will produce final cut of a documentary film on the Sands Casino's impact on southside Bethlehem, create a digital map that details this impact on specific sites within southside neighborhoods, and develop a comprehensive oral history project that incorporates the meaningful features of interviews with local citizens. Lead Mentor: Michael Kramp
Sickle Cell Anemia in Sierra Leone (G)
Anemia is highly prevalent in Sierra Leone and sickle cell diseases are one important cause of its prevalence. The current diagnosis of anemia in Sierra Leone is symptom-based, and no diagnostics are available for sickle cell disease. This project will develop point-of-care diagnostics for sickle cell disease and anemia, ultimately making these tests available to clinics in Sierra Leone. Lead Mentor: Xuanhong Cheng
Southside Permaculture Park
Through the creation of a park-like garden, we will create a space where anyone can come and see the diverse web of connections that exist between varied species to create a mutually supportive network of symbiotic relationships. An interactive website will accompany the garden to expand education about the park and its ecosystem. Students on this project will enroll in ES397. Lead Mentors: David Casagrande and Al Wurth
Using Social Media to Promote Diversity at Lehigh
Low-income communities in the Lehigh Valley perceive Lehigh University as detached from its socioeconomic environment. This project will evaluate the merits of this narrative employing a survey tool previously developed by Lehigh students. The survey will be administered online and face-to-face through community partners, and results will be evaluated and used to inform the University's leadership and its Path to Prominence strategy. A second objective is to develop a website where first-gen students at Lehigh can share their stories. Lead Mentor: Luis Brunstein
UTI Test Strips to Improve Maternal Health (G)
Extremely inexpensive test strips to screen people for Urinary Tract Infections and Diabetes in Sierra Leone. The sci/eng sub-team will focus on chemistry and product design issues, and the social sci/business sub-teams will work on on-the-ground distribution and education aspects. Following successful fieldwork in Sierra Leone in the summer of 2018, members of this team will analyze and assess data gathered and work to expand on-the- ground operations and distribution/education aspects. Lead Mentor: Khanjan Mehta
Viral Adhesion and Invasion
The goal of this project is to understand virus uptake processes in quantitative detail both experimentally and theoretically. We will conduct single-molecule and single-cell base microscopy study to measure binding forces between virus and human host cells, develop understanding of the behavior of collections of adhesion molecules (proteins on cell surfaces that cause cells to bind to other cells or particles), and ultimately to develop a predictive model for how an entire virus particle attaches to a cell prior to its uptake. Lead Mentor: Frank Zhang
Virtual Reality in the Lehigh River Watershed
We are creating a highly immersive Virtual Reality (VR) space that can be used in multiple types of educational settings for students to investigate the ecology, history, and environmental issues of the Lehigh River watershed. This VR learning space will be highly immersive and interactive to enable learners to personally feel a connection to the subject material. Lead Mentors: Alec Bodzin, David Anastasio, Farah Vallera, and Tom Hammond
Get Inspired! Past i2I Projects
Created a collaborative online space where users can create loop-based music - like a Google Doc for sound! Check out Jamrooms at jam.musicintelligence.co
Silicon Valley is a nexus of issues around gender equality, socioeconomic status, power dynamics in the workplace, and free speech. This project explored those issues, talked to subject experts, and determined possible solutions.