What are Inquiry to Impact Projects?
Inquiry to Impact Projects pursue creative and innovative answers to societal challenges and open-ended questions in multidisciplinary teams with students, faculty, and external partners. These multi-semester projects span the journey from creative inquiry to sustainable impact. Students develop their competencies for independent inquiry and discovery, multidisciplinary teamwork, design thinking, entrepreneurial thinking, systems thinking, and getting stuff done.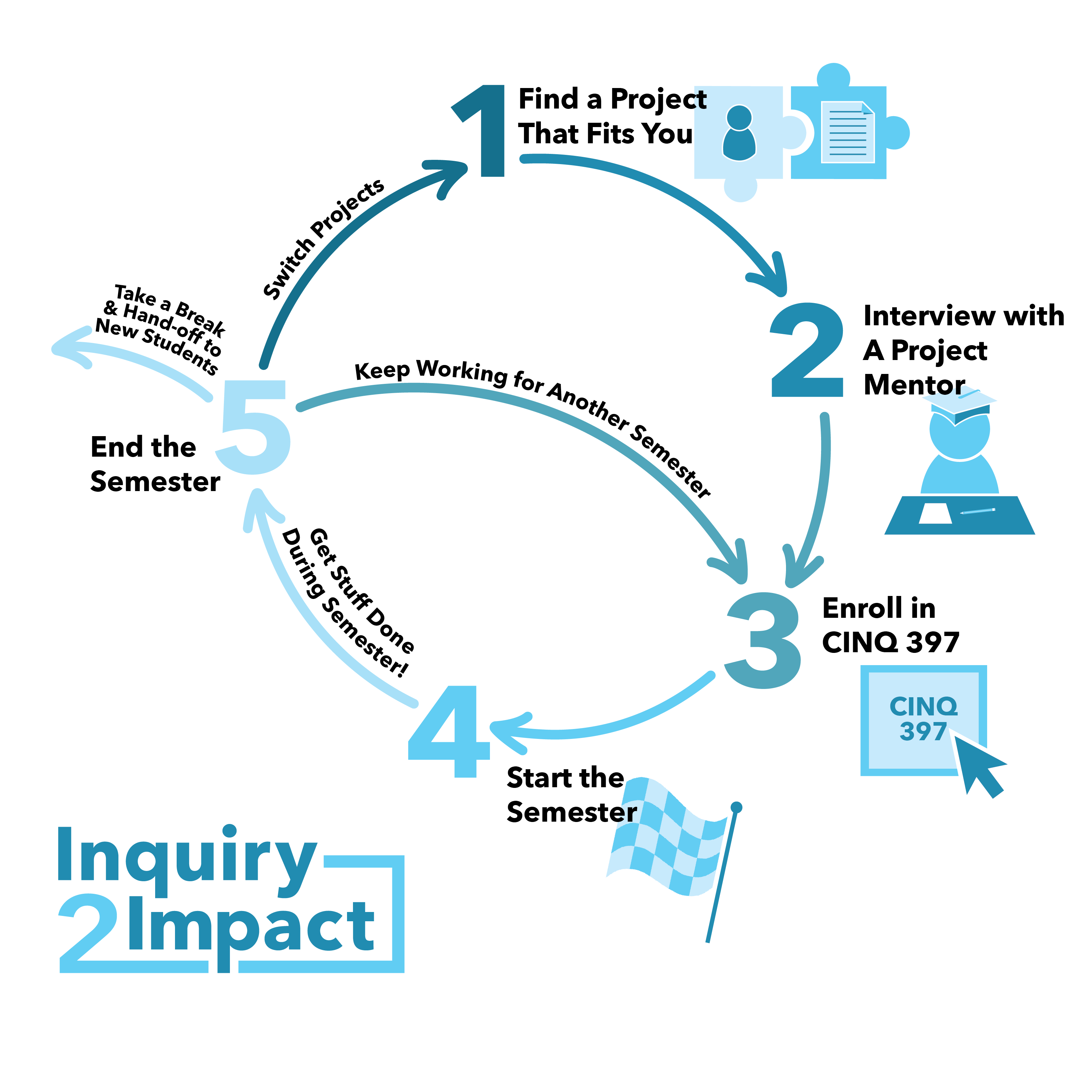 Lehigh and the Valley: A Symbiotic Future?
By engaging these communities through adequately designed survey methods, our analysis and results can inform a strategy, to be designed, to achieve one of the University's long-term goals of developing a sustainable and mutually beneficial relationship with low-income communities in the greater Lehigh Valley. Lead Mentor: Luis Brunstein
Low-Cost Diagnostics in Sierra Leone
Extremely inexpensive test strips to screen people for Urinary Tract Infections and Diabetes in Sierra Leone. While the science/engineering sub-team will focus on chemistry and product design issues, the social science and business sub-teams will work on on-the-ground distribution and education aspects. Lead Mentor: Khanjan Mehta
The Neurogenetics of Creativity
Continuing 3 years of ongoing work in Lehigh's Biological Sciences department, this project takes a look at the neural underpinnings of creativity and creative practice through DNA sampling and genetic testing. The goals of this project are to create entirely new knowledge about the biological nature of what makes humans creative thinkers, doers, and producers. Lead Mentors: Julie Miwa and Frank Zhang
This project builds on the parklet movement, but the aims to develop multiple models of parklets which can be produced for $100 or less. The team will design new affordable parklets and assess the impact of these parklets in South Bethlehem, with particular emphasis on walkability and supporting small businesses. Lead Mentor: Karen Beck Pooley
Thera Metrey: Growing Mushrooms in Sierra Leone
This project will continue to refine and proliferate mushroom production systems for Cambodian farmers, to be utilized as a source of income during the months of the year when they cannot grow rice. They will be working on five journal articles and conference papers. Lead Mentor: Khanjan Mehta
This project will write and produce a play based on the experiences of currently and formerly incarcerated people. We will measure the production's impact on audience members' opinions of these issues before and after the performance. This is truly an exploration of how applied theater can motivate a diverse community to become mobilized in political reform. Lead Mentor: Karen Beck Pooley
Biobanks—storage facilities for biomedical supplies—are currently independent operators without a connected network to share information and locations. This project aims to eliminate that hindrance by creating a new mechanism for biobanks and those in need of biological material to find one another and conduct needed exchanges. Lead Mentor: Ana Alexandrescu
Assessing Parent-Child Communication
This project will operationalize differences in language use and non-verbal communication strategies across ethnically diverse high-risk mother-child dyads. Developing a tool to measure and evaluate these differences will allow us to identify how specific characteristics of parent-child communication relate to a range of family characteristics and child outcomes in diverse families. Lead Mentor: Debbie Laible
Sands Casino in Southside Bethlehem: Documentary
When Bethlehem Steel closed its doors in 1995, the Lehigh Valley lost a corporate employer and indeed a corporate icon. When the Sands Casino opened its doors in May 2009, the Lehigh Valley gained a new corporate employer and icon. Our film project will research and document the impact of the Sands Casino on the Lehigh Valley community, and in particular, Southside Bethlehem. Lead Mentor: Michael Kramp
Virtual Reality of the Lehigh River Watershed
We are creating a highly immersive Virtual Reality (VR) space that can be used in multiple types of educational settings for students to investigate the ecology, history, and environmental issues of the Lehigh River watershed. This VR learning space will be highly immersive and interactive to enable learners to personally feel a connection to the subject material. Lead Mentor: Alec Bodzin
Cause of River Meandering
River meandering has been attributed to the erosion and deposition of sediments along river banks, yet the fundamental cause of the instability has not been heretofore identified. We plan to show that meandering in all systems is driven by the existence of an adverse pressure gradient, such that the resulting deceleration imposed upon the fluid causes it to be energetically favorable to divert the flow to either side of its original direction. Lead Mentors: Dork Sahagian, Panos Diplas
Negotiating Privacy Boundaries
Privacy is a fundamental concerns in communication and information technology. We no longer can protect our privacy on our own, but need help from the people and systems who access our private information. This project aims at exploring new possibilities for collaborative privacy management, developing new understanding, making new discoveries, and creating new tools. Lead Mentor: Haiyan Jia
Southside Permaculture Park
Through the creation of a park-like garden, we will create a space where anyone can come and see the diverse web of connections that exist between varied species to create a mutually supportive network of symbiotic relationships. An interactive website will accompany the garden to expand education about the park and its ecosystem. Lead Mentor: David Casagrande
Get Inspired! Past i2I Projects
Created a collaborative online space where users can create loop-based music - like a Google Doc for sound! Check out Jamrooms at jam.musicintelligence.co
Silicon Valley is a nexus of issues around gender equality, socioeconomic status, power dynamics in the workplace, and free speech. This project explored those issues, talked to subject experts, and determined possible solutions.