What are Inquiry to Impact Projects?
Inquiry to Impact Projects pursue creative and innovative answers to societal challenges and open-ended questions in multidisciplinary teams with students, faculty, and external partners. These multi-semester projects span the journey from creative inquiry to sustainable impact. Students develop their competencies for independent inquiry and discovery, multidisciplinary teamwork, design thinking, entrepreneurial thinking, systems thinking, and getting stuff done.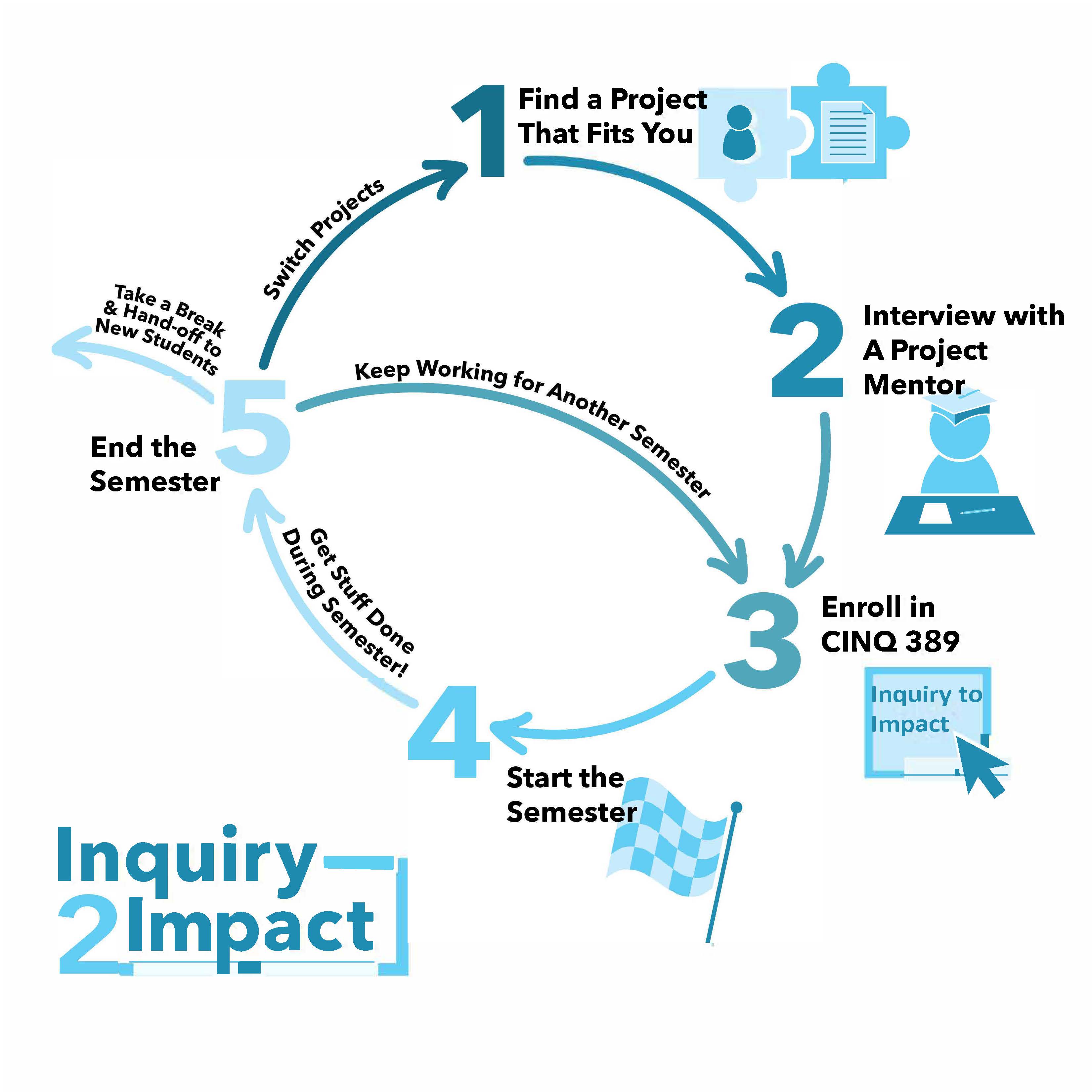 Fall 2020 Inquiry to Impact Projects (Click on image for additional information)
Past Inquiry to Impact Projects
Causes of River Meandering
River meandering has been attributed to the erosion and deposition of sediments along river banks, yet the fundamental cause of the instability has not been heretofore identified. We plan to show that meandering in all systems is driven by the existence of an adverse pressure gradient, such that the resulting deceleration imposed upon the fluid causes it to be energetically favorable to divert the flow to either side of its original direction. Lead Mentors: Dork Sahagian and Panos Diplas
Forging Ahead through Engineering Leadership
Erwin and Ludwig Loewy changed the world with their engineering innovations in metal forming. This project will develop an interactive exhibit to maximize understanding of the Loewys' technical accomplishments. Resources include the Loewy archives at Lehigh, a potential visit to company where forging presses are still in operation, and opportunity for partnership with the National Museum of Industrial History in Bethlehem. Lead Mentors: Scott Garrigan and Wojtek Misiolek
The Neurogenetics of Creativity
We are exploring the genetic underpinnings of differences between individuals, and introducing proteins into genetic animals to test whether mutant versions can restore functioning as well as normal versions. This project can explain why some have difficulty overcoming traumas and fears, and ultimately help to maximize potential and allow people to live their most creative lives. Lead Mentors: Julie Miwa and Frank Zhang
Parent-Child Communication Coding
This project aims to develop a coding scheme that will capture the quality of parent-child communication in video during an 8-minute conversation between mothers and children. The goal of the project is to find differences in language use and non-verbal communication strategies across ethnically diverse high-risk mother-child pairs. Our coding scheme will be made available to other researchers who do work on ethnically diverse families. Lead Mentor: Debbie Laible
How can we develop and design simple urban spaces to build community and increase quality of life? This project will build on the Parklet movement by designing and installing inexpensive Parklets in Bethlehem, testing their effectiveness, and planning ways to replicate the project at other locations throughout the city. Lead Mentor: Karen Beck Pooley
Using Social Media to Promote Diversity at Lehigh
Low-income communities in the Lehigh Valley perceive Lehigh University as detached from its socioeconomic environment. This project will evaluate the merits of this narrative employing a survey tool previously developed by Lehigh students. The survey will be administered online and face-to-face through community partners, and results will be evaluated and used to inform the University's leadership and its Path to Prominence strategy. A second objective is to develop a website where first-gen students at Lehigh can share their stories. Lead Mentor: Luis Brunstein
Collaborative Localization and Mapping with Robots
The focus of this project will be on Visual Localization and Mapping of autonomous robots (quadcopter drones). This project will develop basic algorithms and software packages using a Robot Operating System to collect visual samples and perform object classification. Senior team members will develop more advanced machine learning algorithms.
Entrepreneurship, Identity, Social Justice, Charting a Path Toward More Inclusive Economics
This project seeks to interrogate the challenges and opportunities of entrepreneurship through the prism of gender, race, and LGBTQ identities, with particular attention to the business community in Bethlehem. What challenges are faced by businesses owned by women, people of color, LGBTQ people and their allies in the Lehigh Valley and what solutions might be implemented to help work through those challenges?
HearMyCl: Patient Customized Cochlear Implant Simulation App
This project will focus on continuing the work from this past summer, when a beta version of an app was developed for "translating" cochlear implants from young children to their caregivers. The goal for summer 2019 is to complete product development and develop an applied research plan for HearMyCl. Students will gain stakeholder input into how HearMyCl can best be implemented with caregivers of children.
Get Inspired! Past i2I Projects
Created a collaborative online space where users can create loop-based music - like a Google Doc for sound! Check out Jamrooms at jam.musicintelligence.co
Silicon Valley is a nexus of issues around gender equality, socioeconomic status, power dynamics in the workplace, and free speech. This project explored those issues, talked to subject experts, and determined possible solutions.