What are Mountaintop Projects?
Mountaintop projects are interdisciplinary deep dives where faculty, students, and external partners come together and take new intellectual, creative, and/or artistic pathways that lead to transformative new innovations, new expressions, and new questions. We expect students to take radical ownership in their projects, and envision faculty mentors as partners and co-creators striving to propel their projects forward on the journey towards tangible, sustainable impact: impact which builds the skillsets, mindsets, and portfolios of pioneers and change-makers in a rapidly changing world.
The MOUNTAINTOP SUMMER EXPERIENCE:
from Inquiry to Impact
Student Applications not open yet....stay tuned!
Likely application date: Feb 24th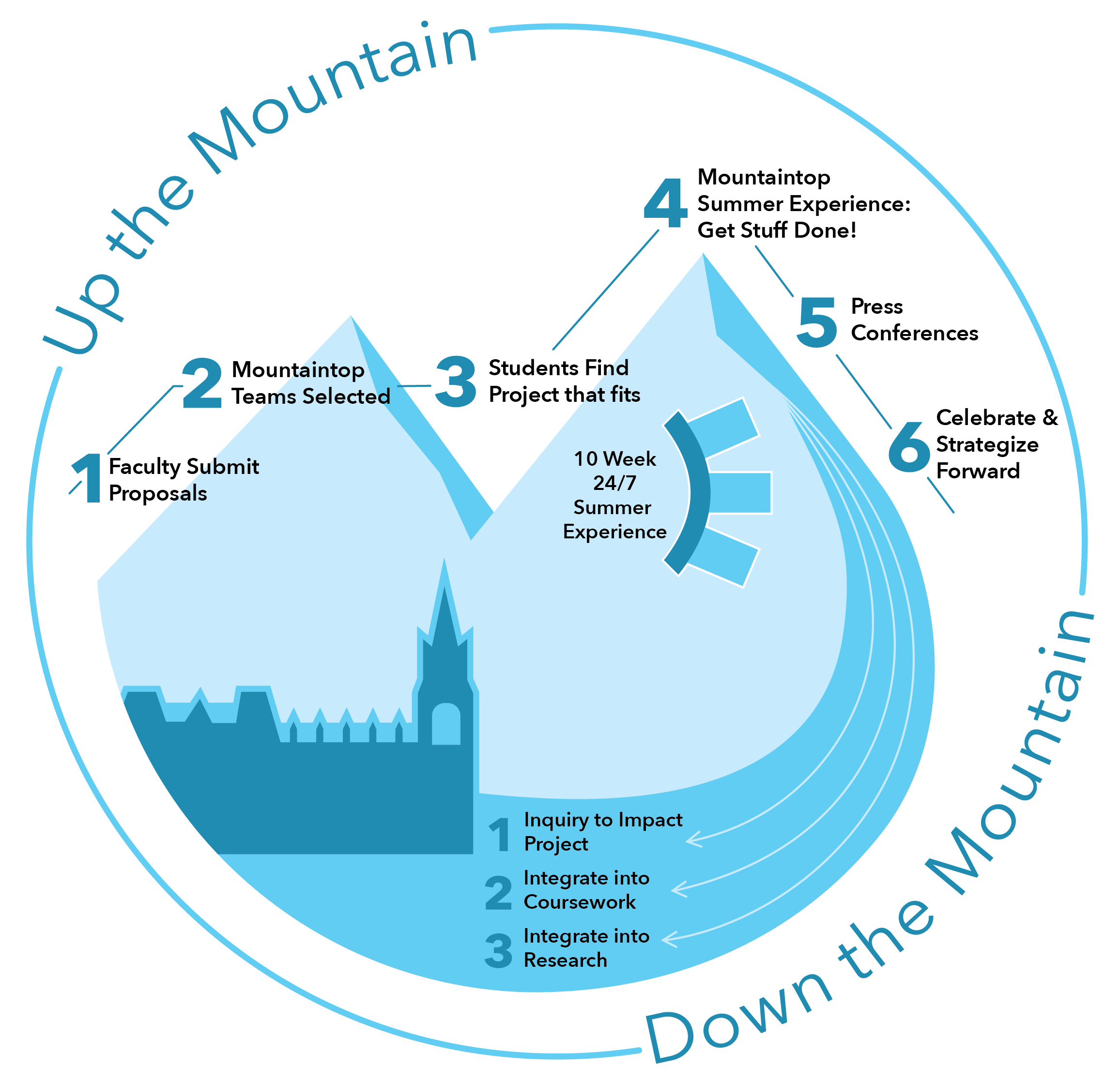 2019 Mountaintop Summer Projects-- Click Image for Website or Abstract!
Summer 2019 Mountaintop Images
Summer 2019 Mountaintop Students
Inclusive Economies Summer Mountaintop Fellows
Robots Team Press Conference
Southside Permaculture Summer Mountaintop Fellows
VR of the Lehigh River Watershed Summer Mountaintop Fellows
Mushroom Grow House Image
Summer Mountaintop Fellows and BYO Workshop
Get Inspired! Past Mountaintop Projects
Beyond Bars: Redesigning Criminal Justice through Theatre and Social Change
This project will write and produce a play based on the experiences of currently and formerly incarcerated people. Observations and engagement in work done by local community organizations aiming to reduce inequality and working with individuals as they transition out of prison and back into their neighborhoods will inform this production about the criminal justice system's negative impacts on people, families, and communities. The project will not only stage this production but also measure its impact on audience members' opinions of these issues before and after the performance. This is truly an exploration of how applied theater can motivate a diverse community to become mobilized in political reform. Lead Mentor: Karen Beck Pooley | Mentors: Holona Ochs & Bill Whitney
Biobanks—storage facilities for biomedical supplies—are currently independent operators without a connected network to share information and locations. This project aims to eliminate that hindrance by creating a new mechanism for biobanks and those in need of biological material to find one another and conduct needed exchanges. Lead Mentor: Ana Alexandrescu
Bone Growth v. Vascular Growth: Which Comes First?
The central question for this project is to define the relationship between bone growth and vascular patterning. For example, does increasing nutrient supply via blood vessels drive bone growth, or, do growing bones call on new blood vessels for support? Students involved in this project will address this question using the zebrafish regenerating fin. We have identified different strain backgrounds of zebrafish that exhibit differences in the length of bony fin ray segments and differences in the size and organization of blood vessels. Students can determine how best to manipulate these systems and begin to provide mechanistic insights into the drivers of tissue growth and size. Lead Mentors: M. Kathy Iovine, Linda Lowe-Krentz
Breaking the Buchanan Street Wall: Using History to Foster Engagement Between Lehigh Students and Nearby Small Business Owners
Near Lehigh University's campus is the vibrant, ethnically diverse 4 Blocks International commercial district. But it is an area Lehigh students rarely frequent; an invisible wall seems to divide Lehigh folks from the neighborhood. Using techniques of creative placemaking (storygathering with local merchants, web-based storysharing, and tours for Lehigh students) our team will work to foster dialogue and connections between the Lehigh University community, and these diverse businesses and their proprietors, in efforts to break down that imaginary wall. Lead Mentor: Kim Carrell-Smith
Developing a Coding System to Assess Parent-Child Communication Quality in Diverse Contexts
Our project aims to develop a coding scheme that will capture the quality of parent-child communication in video during an 8-minute conversation between mother-child dyads who were part of the Early Head Start Research and Evaluation Project. The goal of this mountaintop project will be to operationalize differences in language use and non-verbal communication strategies across ethnically diverse high-risk mother-child dyads (who discussed areas of conflict in their relationship). Developing a tool to measure and evaluate these differences in a culturally diverse sample will allow us to identify how specific characteristics of parent-child communication relate to a range of family characteristics and child outcomes in diverse families. Our coding scheme will be made available to other researchers who do work on ethnically diverse families. Lead Mentor: Debbie Laible
Do You Hear What I Hear? Development of a Cochlear Implant Simulation App
Spoken language is perhaps the most uniquely human behavior in the animal kingdom. Language is learned during a critical developmental period early in life, and learning potential falls from early adolescence. We owe much of our language ability to our parents and siblings; one can easily conjure the image of a mother repeating utterances back to their child often emphasizing misspoken syllables. This tutor/child interaction holds the inherent assumption that both mother and child hear speech similarly. For profoundly deaf cochlear implant patients, this is not the case. While remarkably successful at restoring hearing function, implants are constrained in the frequency domain, which limits discrimination of subtle but important elements of speech. Implant patient speech is often delayed compared to normal listeners. Our goal is to create a mobile implant simulator solution so that parents and caregivers can experience the acoustic world similarly to their implanted child. It is our hope that this will accelerate language development, and allow parents to gain a real-time appreciation of their child's experience. Lead Mentor: Susan Perry | Mentor: R. Michael Burger
Forging Ahead through Engineering Leadership
Erwin and Ludwig Loewy changed the world with their engineering innovations in metal forming. Their ideas, and even the machines they built, are still in use more than half a century later, their history is known only to limited audience. The goal is to develop an interactive exhibit to maximize understanding of the Loewy technical accomplishments. Resources include the Loewy archives at Lehigh, a potential visit to company where forging presses are still in operation, and opportunity for partnership with the National Museum of Industrial History in Bethlehem, an affiliate of the Smithsonian Institution. Lead Mentor: Wojtek Misiolek | Mentors: Lois Fischer Black, Stephen Cutcliffe, Scott Garrigan
Gambling on Community: Ten Years of the Casino in Southside Bethlehem
When Bethlehem Steel closed its doors in 1995, the Lehigh Valley lost a corporate employer and indeed a corporate icon. When the Sands Casino opened its doors in May 2009, the Lehigh Valley gained a new corporate employer and icon. Our film project will research and document the impact of the Sands Casino on the Lehigh Valley community, and in particular, Southside Bethlehem. Students will engage in public research methods, including the study of government documents, employment records, and city council minutes. We will also conduct an abundance of interviews with community leaders who can address the impact of the casino. Lead Mentor: Michael Kramp
Human Interaction with Agile Autonomous Robots
Autonomous robots have been rapidly becoming an integral part of our daily life. Robots have great potentials to collaborate with humans in various applications such as search engines, self-driving cars, industrial robotics, medical surgeries, and surveillance. Fast real-time perception and control by a robot are the key factors for successful collaboration with humans. The objective of this project is to develop novel algorithms for perception and control in order to minimize risk of failures in human-robot interactions. Lead Mentor: Nader Motee
Immersive Virtual Reality (VR) Development of the Lehigh River Watershed
We are creating a highly immersive Virtual Reality (VR) space that can be used in multiple types of educational settings for students to investigate the ecology, history, and environmental issues of the Lehigh River watershed. Learning in a highly immersive VR environment will enable students to make better connections between science, social science, and decision-making contexts in their local environment, while promoting geospatial thinking skills. This VR learning space will be highly immersive and interactive to enable learners to personally feel a connection to the subject material. Lead Mentor: Alec Bodzin | Mentors: David Anastasio, Tom Hammond, Scott Rutzmoser, Farah Vallera
In Search of the Fundamental Cause of River Meandering
River meandering has been attributed to the erosion and deposition of sediments along river banks, yet the fundamental cause of the instability has not been heretofore identified. In this project, we address the conditions that lead to the meander instability in the first place. Rivers are only one of many fluid systems that meander, and no other involves sediments at all. As such, a universal criterion is needed to explain meandering in general. We plan to show that meandering in all systems is driven by the existence of an adverse pressure gradient, such that the resulting deceleration imposed upon the fluid causes it to be energetically favorable to divert the flow to either side of its original direction. Lead Mentors: Dork Sahagian, Panos Diplas
Lehigh and the Valley: A Symbiotic Future?
There seems to be a standing narrative at Lehigh University that low-income communities in the Lehigh Valley perceive our institution as detached from its socioeconomic environment and as an elitist place catered to the privileged classes. The objective of this project is to engage these communities through adequately designed survey methods to asses to what extend this narrative is supported by evidence. The analysis and results are vital to inform the strategy, to be designed, to achieve one of the University's long-term goals of developing a sustainable and mutually beneficial relationship with low-income communities in the greater Lehigh Valley. Lead Mentor: Luis Brunstein
Lehigh Hyperloop: Exploring Campus Transportation
Given Lehigh University's expansion plans over the next few years, the Lehigh Hyperloop team is focusing on researching and developing a theoretical framework for safe and reliable autonomous transportation [on Lehigh's campus]. We will identify the areas with the greatest potential for impact, and develop solutions accordingly. At our project's completion, Lehigh will be better equipped to handle the future of campus transportation; ideally, our solution will also be scalable for industry use.
Low-Cost Diagnostics in Sierra Leone
Extremely inexpensive test strips to screen people for Urinary Tract Infections and Diabetes in Sierra Leone. While the science/engineering sub-team will focus on chemistry and product design issues, the social science and business sub-teams will work on on-the-ground distribution and education aspects. Members of this team will travel to Sierra Leone during the summer to conduct field work and expand on-the- ground operations and distribution/education aspects. Lead Mentor: Khanjan Mehta
Negotiating Privacy Boundaries: the Social and Collective Aspects of Privacy Management
Privacy is a fundamental concerns in communication and information technology. The management of information privacy becomes increasingly challenging when 1) personal information posted online gets seen by people we do not expect; 2) friends share information concerning us without permission; and 3) private information is collected, stored, and used by devices and systems unbeknownst to us. We no longer can protect our privacy on our own, but need help from the people and systems who access our private information. This project aims at exploring new possibilities for collaborative privacy management, developing new understanding, making new discoveries, and creating new tools. Lead Mentor: Haiyan Jia | Mentors: Eric P.S. Baumer, Ting Wang
The Neurogenetics of Creativity
Why are people different? Why are some resilient and others afraid to reach their goals? We are exploring possible genetic underpinnings of differences between individuals. We are also introducing proteins into genetic animal and seeing if mutant versions can restore functioning as well as the normal versions can. Single-molecule measurements can detect minute differences in binding affinity between them to reveal why the proteins function differently. This project can provide an explanation for why some individuals have difficulty overcoming traumas and fears. Ultimately, we hope the information can help to maximize people's potential and allow them to live their most creative lives. Lead Mentor: Julie Miwa | Mentor: Frank Zhang
Pop-Up Parklets: Increasing Quality and Walkability of Life in Smaller Cities
How can we develop and design simple urban spaces to build community and increase quality of life? Since the first Parklet appeared in San Francisco roughly a decade ago, these mini parks have begun serving as spots for outdoor dining, enjoying locally-made artwork, exercising, and socializing. While many Parklets now exist, few do in smaller cities and few, too, have been systematically and rigorously analyzed to determine what impacts they have on the people who use them and their surrounding communities. This project will fill this gap by designing and installing an inexpensive Parklet in Bethlehem, testing its effectiveness, and planning ways to replicate the project at other locations throughout the city. Lead Mentor: Karen Beck Pooley
Southside Permaculture Park
The EcoHouse Lehigh Southside Permaculture Park is designed to integrate the Lehigh and Bethlehem communities with each other and with the greater community of life. Through the creation of a park-like garden, we will create a space where anyone can come and see the diverse web of connections that exist between varied species to create a mutually supportive network of symbiotic relationships. An interactive website will accompany the garden so that anyone who visits can learn about all of the species, how they interact, how to care for and use them, and how to replicate this model elsewhere. Lead Mentor: David Casagrande | Mentor: Albert Wurth
Squeezing Every Last Drop: Recovering and Valorizing Waste for Sustainability at the Energy-Water Nexus
This project will seek a game-changing paradigm aimed at near 100% recovery, processing, and ultimate monetization of organic matter from wastewater as a sustainable untapped economic resource and "silver bullet" solution to the burgeoning global demand for fresh water. Efficient recovery and conversion of organic waste would open new avenues to net-positive energy production that would make wastewater treatment an economic opportunity rather than oft-ignored legislative requirement. This diverse team of chemical, energy, and environmental engineers, economists, and urban planners will study how novel adsorbent technologies can be leveraged to meet technological, societal, and economic challenges at the water-energy nexus. Lead Mentor: Mark Snyder | Mentors: Vince Grassi, Alberto Lamadrid, Jeetain Mittal, Srinivas Rangarajan, Arup SenGupta, Ramesh Shankar
Thera Metrey: Growing Mushrooms in Sierra Leone
Refining and proliferating mushroom production houses for Sierra Leonean farmers, to be utilized as a source of income and a cash crop when others are not accessible. Following successful field work in this area in Cambodia during the summer of 2017, members of the team will travel to Sierra Leone this summer to conduct further tests and build networks. Lead Mentor: Khanjan Mehta
Developed new 3D printing technology and innovated on useable, printed concrete for future uses in construction
Created and designed an app to assess and monitor student motivations and progress in mathematics
Created Poly-Tics, a web platform that analyzed social media in order to help people recognize media bias and diversify their political media.
DataLight is an interactive media installation that provides people with an intuitive understanding of their own personal data
Conducted research studies on the psychological factors that affect how people receive and are deceived by news sources
Greening the UN's Missions
Developed a tool to enable select UN Missions to align the 17 UN Sustainable Development Goals in their facilities and operations
Mushroom Production in Cambodia
Standardized the design of mushroom production systems and explored processing and storage methods in rural Cambodia
Examined care delivery and impediments to healthcare access in vulnerable populations, specifically the homeless in the Lehigh Valley
Designed, built, and installed low-cost parklets in Southside Bethlehem to improve walkability.
Explored the relationship between psychology and design and created objects to help cope with mental illness
Created a free, collaborative online space for users to compose loop-based music.
Discovered an efficient way to convert gypsum drywall into high value fertilizers, reducing construction waste
Neurogenetics of Creativity
Studied the genetics and brain processes behind creativity to help define what creativity really is
Designed and manufactured garments embedded with a wide-range of technology for practical uses.
Designed technologies for aging adults with consideration of social and medical concerns and factors
Asa Packer: An Extraordinary Man in Extraordinary Times
Studied the history of Asa Packer and attempted to tell his story despite the lack of previous public scholarship and archival sources
Actions to Deliver Racial & Ethnic Equity in Education
Advanced equitable educational outcomes for low-income and minority students in communities in the US and Czech Republic
Civic Hacking, Resource Mapping, & Using Community Data for Change
Explored issues of civic data, asset mapping, and community engagement to identify potential social issues and needs
"Weaving Our We" : Arts & Humanities for Civic Engagement
Designed a dedicated arts and humanities program that also engaged community partners for the public good
Atomic Layer Deposition Instrument
Built an Atomic Layer Deposition Instrument which deposits an extremely thin layer of material that adheres to the surface it is applied on
Passive Learning Techniques to Identify Pseudoscience
Designed a strategy game where players learned to differentiate between science and psuedoscience
Flow Networks for Pipeline Blockages & their Detection
Studied the complexities of locating and solving the problem of blockages in large pipeline networks
History of Africana Studies Film
Created a film that explored how the Africana Studies program at Lehigh University has addressed question of race within the campus environment
Technology & Child Development: Geometric & Spatial Learning
Built an app that promotes child development while utilizing the back-end analytics to further research in the field
Established a free website that allows people in the Lehigh Valley to trade resources, products, and other items in order to reduce waste
Researched how niche markets affect product design and tested biomedical technology methods in the design process in orthopedic shoes
Explores the role of policy think tanks, big data analysis, social entrepreneurship, consulting, and scholarship in sustainable development
Developed technology that enables schools to collect, analyze, and utilize data in new and unexpected ways
Researched, designed, play-tested, and produced several social simulation board games
Created a new scholarly field of sports study through digital measurement and representation of physical capacity and performance
Sustainability in the Developing World
Identified and quantified aspects of the NGO/education system that may not be replicable, scalable, and/or self-sustaining
Refugee Transition through Empowerment & Education
Identified and considered ways educators can appropriately prepare and support refugee students as they transition into new communities
Urban Planning & Transportation at Lehigh University
Studied the potential environmental impacts of campus transportation to design a smarter system for Lehighs campus
Creative Writing & Social Justice
Explored how creative writing encourages alternate social, personal, and political lifestyles and studied writers' growth through community interaction
A New Portal: Connecting the World through an LCD Globe
Designed an LCD globe display to serve as a connection portal between people and places and to study the integration of art and technology
Low-Energy Sustainable Farming
Achieved a fully energy-independent food growing enterprise at Lehigh University Goodman Campus Community Garden
Studied and optimized the design of standalone mobile structures that house research activities
Designed exoskeleton appliances that aid in rehabilitation for patients with muscle disorders of the hand
Creative Learning Activity Portfolios
Built a portfolio of creative arts learning activities for public school students
Hip Hop and Entrepreneurship
Explored the market space at the intersection of hip hop and entrepreneurship and developed a viable app for that space
Interviewed Lehigh University faculty members of 40+ years to explore the growth and value of teaching over time
Explored the role that storytelling plays in Bethlehems social and political life and created potential programs and products that could have sustainable community impact
The Lost Village of Christians Spring
Studied the now-lost Moravian community of Christians Spring through the use of archival sources
Extra-Terrestrial Greenhouses
Attempted to create an agricultural system that can be maintained in extreme conditions with few resources, as in outer space
Conservation of the Highly Endangered Desert Pupfish
Explored methods, in a lab setting, to conserve the highly endangered desert pupfish
Engineering Equality Documentary
Created a full documentary on the history of diversity at Lehigh University and completed an instructional guide for classroom use to accompany the film
Printing Technology & Tradition: Exploring Printing & Pattern in a Global Context
Explored the evolution of global textile patterns using a combination of traditional printmaking techniques and modern technology
Lehigh University in Senegal: Sustainable Building and Community Living
Attempted to develop innovative approaches to building components to improve environmental performance and occupant satisfaction in the West African context
Biomanufacturing: Functional Material Synthesis for Sustainable Energy
Harnessed biomanufacturing techniques to create a photovoltaic cell electrode
Founders Day Performance Experience
Created a new piece fro the presidential inauguration at Founders Day 2015 by using data to enhance digital delay on choral sound and create a visual display
Using National Datasets to Research Early Childhood Development
Established how to efficiently access and analyze large datasets from multi-organization/state databases
Took a deep exploration of the geography of bias - how it varies geographically and the underlying reason why
Tested the applicability of topology optimization and additive manufacturing technology in fabricating 3D printed small inhabitable structures
Developed small wave energy converter designs to explore various strategies for harvesting wave energy and to provide experiential learning opportunities for younger students
Development of Chemical Analysis Tool with 3D Printing
Utilized a 3D printer to conceptualize a prototype of a high spectral resolution infrared spectrometer with a small footprint
Integrating Molecular & Bioengineering to Address Microbial Pathogenesis
Studied strategies to reduce TB and listeriosis through identifying bacteriophage that may be effective in treatment and developed sensors to detect food-borne pathogens
Innovation in Ventilation
Used housing mock-ups, database, and literature research to explore the scope and social context of new ventilation strategies
Wislawa Szymborska Documentary
Produced a short 30-minute film on the life and work of Nobel Prize-winning poet Wislawa Szymborska
Student Designed Supplements for ECO 001
Developed a portfolio of video and textual supplements to assist other students in mastering concepts and methods used in ECO 001, Principles of Economics
Nanoparticle Synthesis for Water Purification in the Developing World
Worked on methods involving nanoparticles and sunlight as practical and affordable means for removing pathogens from drinking water
Developed small-scale model of a combined agricultural-hydroponic system to assist PeaceCorps in creating workshops for intended areas of deployed of the system
Designed a simple, low-cost, aesthetically pleasing hand prosthetic for Cambodia
Designed a low-cost device for pumping water from shallow wells, specifically in an East African context
Designed and constructed a small, transportable structure whose physical form changed in response to human presence
Developed a charging stand that provides augmented functions such as a nighttime clock, weather information, and more
Early Head Start in the Lehigh Valley
Explored and addressed barriers to preventative care among under-served families and their young children in the Lehigh Valley
Assessing Vitamin A Deficiency
Developed a practical and economical device for measuring Vitamin A levels in preschool-aged children
Devised approaches to learning that aligned with how modern students live and learn by using digital devices while moving beyond traditional media
Designed and implemented a responsible system for food waste disposal at Lehigh University
Centered on the redesign and redevelopment of Lehigh University Mountaintop Campus into a "smartspace"
Please note that at this time, participation in the Mountaintop program is limited primarily to Lehigh University students, with the following exceptions: 1) students from institutions with which Lehigh has a formal partnership or MOU; 2) students from other area colleges who do not need Lehigh housing; or 3) students participating in an REU experience related to a specific project who are doing their research work at Lehigh over the summer.