What are Mountaintop Projects?
Mountaintop projects are interdisciplinary deep dives where faculty, students, and external partners come together and take new intellectual, creative, and/or artistic pathways that lead to transformative new innovations, new expressions, and new questions. We expect students to take radical ownership in their projects, and envision faculty mentors as partners and co-creators striving to propel their projects forward on the journey towards tangible, sustainable impact: impact which builds the skillsets, mindsets, and portfolios of pioneers and change-makers in a rapidly changing world.
Mountaintop Summer 2022 Press Conferences
Sessions on July 18th, 20th, and 22nd. Open to all! Building C, room 115, or Zoom for attendees who cannot be there in person.
Program Info / Proposal Format and Submission Process
When does the Program take place?
The Mountaintop Summer Experience (MTSE) runs for approximately 10 weeks (2022 program dates are May 31st - August 5th). At this time, the program is in-person for all students – no virtual component will be part of the summer. Some Associates may be able to work remotely if program leaders and faculty project mentors agree. All project teams will have a work space in Building C, although we understand that some teams will have to conduct some or most of their work at other locations (on campus or in the surrounding community).
All Mountaintop Fellows (funded with summer stipends) are expected to continue working on their projects in the Fall 2022 semester through the CINQ 389 course. Enrollment information will be provided to these students at a later time. CINQ 389 is a variable-credit course, but we have a strong preference for 2 or 3 credits of enrollment.
How are Students Funded? What is the difference between Fellows and Associates?
Students selected as Mountaintop Fellows are paid a stipend of $5,000 for undergraduates, or $6,000 for graduate students, for the summer. These stipends are paid in five biweekly installments beginning mid-June and ending mid-August. Projects typically have two, or at most three, Fellows. Fellows make a full-time commitment to their projects for the 10 weeks of the program, and are not allowed to take summer courses or have jobs, internships, or vacations that would substantially take them away from their project work. Fellows are also expected to continue working on their projects through the Fall 2022 semester (and possibly beyond) by enrolling in the CINQ 389 course. Fellows receive lunch in Building C each weekday that Mountaintop is in operation, and are expected to be in attendance at all relevant presentations, workshops, meetings with Innovators in Residence, and other program opportunities, throughout the summer.
Mountaintop Associates are not paid a stipend, and make a part-time commitment (typically 10 hours per week) to their project. Associates receive lunch in Building C each weekly that Mountaintop is in operation, and are invited and strongly encouraged to attend all relevant presentations, workshops, meetings with Innovators in Residence, and other program opportunities, throughout the summer. Associates are strongly encouraged to continue working on their project through the CINQ 389 course in the Fall 2022 semester and beyond. Associates who have high financial need may inquire about financial assistance which may be available.
Lead faculty project mentors can utilize up to $500 in project expenses. These funds are not tracked by the Office of Creative Inquiry, and faculty may use them as they choose as long as they are relevant to the project. However, the intention of these funds is to help disseminate the work of the project (through conference registration fees and the like) and/or to supplement (or in some cases support) project expense budgets. If students incur project expenses during the summer, there is a system for providing reimbursement from project accounts, which will be handled by program leadership.  **NOTE:  These funds are subject to adjustment or change if unexpected budgetary constraints arise**
Additional project expense budgets beyond the allocated $500 (for needed equipment, supplies, reagents, resources, etc.) will be considered as requested.
How are Students Selected?
Mountaintop 2022 applications are open until April 10th and can be accessed here:
https://lehigh.co1.qualtrics.com/jfe/form/SV_6g45fbilEjvu8N8
The application form includes a list of available projects, and students will be asked to rank their 1st and 2nd choices of projects. After the application period closes, faculty mentors will be given applications for those students who indicated an interest in their project and will typically contact those students for a brief interview. The Office of Creative Inquiry does not assign students to specific projects; those decisions are entirely at the discretion of the faculty lead mentor(s). Demonstrating a high work ethic, dedication to and support for the goals of the project, and strong collaboration skills are usually more important selection criteria than specific technical knowledge or skill sets, although those should be noted on applications as well. Fellows usually need a broader set of skills and mindsets, whereas Associates may be assigned to specific parts of the project, so technical skills may become important in those cases.
Faculty mentors will inform the Office of Creative Inquiry of their selections within two weeks after applications close, and students will be informed by the end of April 2022.
Faculty mentors are welcomed and encouraged to recruit students to their own projects. Those students will need to fill out an application form to the program, but can be automatically accepted based on faculty recommendation / request.
What Opportunities are Programmed for Students?
While the primary focus of the summer will be making progress on projects and taking a deep dive of exploration and achieving deliverables, MTSE offers ongoing developmental, informational, and practical opportunities to students. In addition, we will invite an array of subject matter experts, working professionals, and potential partners as "Innovators in Residence," many of whom will offer broad-topic master classes, all of whom will meet with selected individual project teams who might benefit from their expertise. Fellows are required to attend sessions with Innovators in Residence if invited; Associates are expected to attend unless they have a compelling conflict.
At regular intervals, student teams will present their work to one another and/or to public audiences. Toward the end of the summer, we will likely be hosting a Summer Expo in Building C, where projects will be presented in poster format (unless other formats are negotiated) alongside projects from the STEM-SI summer program and various REUs.
What are the Expectations for Faculty Project Mentors?
Faculty project mentors are not expected to "teach" in the usual sense. Students drive the work and learn what they need in a just-in-time manner. Faculty mentors, along with program leadership, will help connect students with the resources that they need to get up to speed in order to make appropriate progress on their project. In Creative Inquiry, students take "radical ownership" of their projects and are expected to make substantive intellectual contributions that could lead to co-authorship on publishable research articles, presentations at professional conferences, patent applications, etc.
The most successful MTSE and D4I students are those who demonstrate self-efficacy, an execution-focused mindset, strong teamwork skills, openness to learning new skill sets and mindsets, and a comfort level with open-ended questions and problems. The primary roles of the faculty mentor are to provide advice, resources, and guidance syncing up with the team on a regular basis (at least weekly) to monitor progress. 
2022 Mountaintop Summer Experience Projects
Projects are listed in alphabetical order.
Air Quality Initiatives in Almaty
(Prof. Dinissa Duvanova, International Relations)
Almaty, Kazakhstan experiences extremely poor air quality due to coal fired power plants and transportation emissions. With the projected population growth and lack of investment in pollution-reducing technology, poor air quality is likely to continue harming public health. In the long term, the Air Quality in Almaty team aims to reduce respiratory illnesses due to air pollution. Currently, we are collaborating with an organization called AirVision and using their mobile application to increase awareness and reduce air pollution exposure. We plan to take a multifaceted approach to popularize the app this coming semester through educational campaigns and social media advertisements. By researching how other countries have reduced their air pollution and combining that with our knowledge of Almaty, we intend to propose innovative solutions to AirVision and local government entities. We are in the process of conducting an opinion survey to study the habits and current knowledge of Almaty citizens regarding air quality. This research will allow us to formulate targeted approaches to reduce air pollution exposure.
Autonomous Driving for Underwater Drones
(Prof. Rosa Zheng, Electrical and Computer Engineering)
Implementing autonomous (tether-less/wireless) navigation of underwater drones for more effective environmental monitoring and other important research uses. The team is currently preparing to compete in the 2022 RoboSub competition in July.
Beyond Bars
(Dr. Bill Whitney, Creative Inquiry / Theatre)
The issue of mass incarceration is one that touches lives locally, regionally, and globally. The Beyond Bars project aims to examine all of the individual and community-wide consequences that stem from mass incarceration, focused on consequences here in the Lehigh Valley, and use innovative forms of theatre and other art and cultural forms to educate, inspire, and move audiences to action on behalf of the cause of prison abolition. In its first three years, student teams have written and performed live and virtual pieces of theatre based on stories and interviews conducted in the Northampton County Prison system and elsewhere. Currently, Beyond Bars is developing multiple performances and is looking to expand our partnerships and our reach throughout the Valley.
Creative Solutions to Improving Quality of Life through the Clean and Safe Neighborhoods Initiative
(Prof. Jennifer Swann, Biological Sciences)
Working with several Lehigh Valley partner organizations to develop both technical and social solutions that reduce litter and improve neighborhood conditions in Allentown and Bethlehem.
Design of Lehigh-Based Interface with Web3.0
(Prof. Patrick Zoro, Finance)
This project is about getting Lehigh alumni to engage with current student clubs and organizations in Web 3.0. "Web3" is an idea that is generating a lot of excitement at the moment in business technology communities. This team will design a decentralized app with economic incentives, generally "tokens" given as rewards for performing game-related tasks such as winning battles, mining precious resources or growing digital crops. Students will gain exposure to blockchain technology, project design, and network building.
Diagnosing Autism in Sierra Leone
(Prof. Kristi Morin, Special Education)
Autism spectrum disorder (ASD) is considered a global health concern; however, nearly everything we know about autism comes from research in high-income countries. The dearth of research on ASD is particularly problematic in countries across Africa. A recent review revealed that Africa had the least amount of autism research conducted in the world, likely due to the lack of a culturally appropriate screening and diagnostic tool to identify individuals with ASD. Through this project, we will evaluate tools commonly used in the United States to diagnose autism in order to assess their feasibility and cultural appropriateness. We will also collect qualitative data during a trip to Sierra Leone to inform the development of a freely available, culturally appropriate screening and diagnostic tool for use in West Africa.
Echo Hawks
(Dr. Nathan Urban, Provost & VP for Academic Affairs; Prof. Khanjan Mehta, Creative Inquiry)
Lehigh students have lots of questions. Most of them, of course, require a faculty or staff member to answer them. But many don't! We envision a campus where Amazon's Alexa system can be utilized to answer some of the most frequently asked and easy-to-answer questions, especially for students new to our university and trying to get oriented. This is a brand-new project and the student team will engage with Lehigh students and relevant offices to identify the best questions that Alexa can answer with a "human in the loop," conducting focus groups, interviews, surveys etc. to determine the best way to implement such a system at Lehigh, making information-finding more efficient, effective, and ultimately, creating a more sustainable campus economy.
Environmental Pollution and Asthma Effects
(Prof. Hyunok Choi, College of Health)
Globally, quantifying and clarifying the causalities underlying environmentally attributable childhood illnesses, including adverse birth outcomes, asthma, obesity, and intellectual impairments, remains an urgent public health challenge. To date, our group has demonstrated that early-life exposures to fossil fuel-emitted air pollution independently contribute to adverse birth outcomes, obesity, and doctor-diagnosed asthma. In particular, air pollution due to fossil-fuel burning remains an urgent challenge in Kazakhstan. However, the extent to which neighborhood environmental, demographic, and social attributes contribute to the inception and exacerbation of multiple diseases during childhood within Kazakh children remains unknown. Furthermore, air pollution and regional climate change exact an exceptionally high toll on children and the impoverished segment of the population, thereby highlighting the underlying injustice. One of the most intractable barriers to an improved understanding includes an overall absence of valid ground-level air quality data in Kazakhstan. Such an absence of human air pollution exposure data means that protective policies for the general population could not be developed. Over the next 10-year period, our overarching goal is to quantify the human health and economic benefits due to the conversion from fossil-fuel dependency to renewable energy sources, mediated by reducing the environmental pollution. During the next five-year period, we aim to determine the asthma risk resulting from early-life exposures to PM2.5, NO2, and ozone, respectively or in conjunction, after adjusting for social-demographic behaviors. As a first step, our short-term goal is to build Kazakhstan-focused, multiscale geospatial data infrastructure. Over the next five-year period, we will seek to deepen our understanding of the environmental origins of childhood developmental disease, including but not limited to asthma, obesity, and neurocognitive impairments.
Factor Models and Portfolio Management
(Prof. Patrick Zoro, Finance)
Factor models are widely used in the industry that look to diversify portfolios but they are correct in that the traditional Fama French factors are not as popular. Useful for the job market, as focus will be on optimizing a portfolio with set constraints to limit exposures to certain factors (this is extremely popular). The team will work toward publishing their research findings.
Financial Equation and Machine Learning 
(Prof. Patrick Zoro, Finance)
There are many kinds of numeric financial data where we have the inputs and the outputs and we don't understand the exact behavior, dynamics or equation that connects the input and output. This project team will work to come up with the equation for some of the financial phenomena using the data and see their deviation from the closed form solution. The team will work toward publishing their research findings in a disciplinary journal. Students will engage with cutting-edge machine learning techniques, Python coding, and data analytics.
Flying Swarms: Designing, Constructing, and Programming Autonomous Robotic Blimps
(Prof. David Saldaña, Computer Science and Engineering)
Imagine a hospital in a remote area where road access is limited, and health care providers require medical supplies in the middle of a hurricane that can last days. Traditional drones perform poorly in turbulent environments, but is it possible to develop a swarm of flying blimps that can transport supplies in turbulent environments?
Food Carbon and Water Footprint
(Prof. Don Morris, Earth & Environmental Sciences)
Have you ever thought about the carbon and water footprints of the foods you eat at Lehigh?  In this project, students will add a water footprint calculator component while continuing to work on an existing food carbon footprint calculator, as well as expand the carbon portion. This will allow Lehigh Dining to provide a water footprint (red - high, yellow - medium, green - low) for key menu items at dining locations across campus. This will encourage students, faculty, and staff to choose to alter their food choices based on the water impact of the menu item. The students will also determine how to expand the calculator to make it more sophisticated, how to transition away from national averages, and how to make this a national, open source model for other colleges and universities to use. 
Food Products to Fight Malnutrition and Stunting in Sierra Leone
(Prof. Lori Herz, Bioengineering)
Malnutrition and micronutrient deficiencies are common in Sierra Leone, especially among children under five years of age.  This often results in stunting, wasting, developmental delays, and mortality. Over the past two years, we have developed several nutrient-dense foods at Lehigh, which were prepared and tested in Sierra Leone in 2019.  The next phase of the work includes improvement of the recipes, investigating methods of preservation and packaging, analysis of the products for nutrient levels, shelf-life testing, designing a clinical study, and creating and executing a business plan.
Interpretability of a supervised learning-based trading strategy
(Prof. Patrick Zoro, Finance)
This project will work to develop an interpretability of the supervised learning-based trading strategy using different approaches and get insight into what signals are driving a trading strategy. Students will publish their research findings in a disciplinary journal, as well as learning cutting-edge machine learning techniques, Python coding, and data analytics.
Lehigh Night Hawks
(Prof. Jennifer Swann, Biological Sciences; Chief Jason Schiffer, LUPD)
This project team will work closely with the Lehigh University Police Department and the City of Bethlehem Police Department, as well as other local stakeholders, to design and implement a positive, peer-networked system aimed to increase safety on Lehigh's campus and the surrounding south Bethlehem neighborhoods. Students will work in tandem with the LUPD to assist them in providing a safe environment for Lehigh's students and the Bethlehem community as they live, work, and play on Lehigh's campus and south Bethlehem.
Lehigh RiVR Immersive Learning
(Prof. Al Bodzin, Instructional Technology, College of Education; Prof. David Anastasio, Earth and Environmental Sciences; Prof. Tom Hammond, Instructional Technology, College of Education)
This project is designing, developing, testing, and implementing an immersive virtual reality (iVR) project for STEM education to promote engagement and learning about spatial watershed features and environmental issues in the Lehigh River watershed. This project seeks to advance a novel approach using iVR learning with game design principles to broaden access to STEM learning experiences for adolescents and adults with a collaboration of informal STEM centers in the Lehigh Valley. Team members will learn Unity programming skills and develop immersive games for learning.
Machine Learning for Advanced Micro-Fabrication and Cell Manipulation (Prof. Yaling Liu, Bioengineering / Mechanical Engineering and Mechanics)
Design, fabrication, and testing of various microfluidic devices based on high-content image formulation and machine learning. This critical technology needs to be designed and fabricated more quickly and reliably to keep up with biotech and medical needs. 
MindFull
(Prof. Khanjan Mehta, Creative Inquiry)
The evidence suggests that communities of color across the United States have been disproportionately impacted by COVID-19, exacerbating existing problems of identifying resources for improving mental health and addressing crises of addiction, mental health, and economic despair. This project will build upon work started in summer 2021 where the student team has mapped mental health resources (focusing on the urban centers of Allentown, Bethlehem, and Easton). The next year will involve refining that map as well as embarking on autoethnographic research throughout the Lehigh Valley to determine what communities are most in need, and how resources can be funnelled to those communities to have the greatest impact.
NeuroSalon
(Prof. Julie Miwa, Biological Sciences)
Building a bridge between brain science and the arts, working to understand the connection between creative thought and empathy and scientific reasoning. Will develop a performance/exhibition to showcase the work.
PA 100 Index of Companies
(Prof. Patrick Zoro, Finance)
This project team will managing an active managing index that fits industry standard (S&P), and design an user interface that tracks all of Pennsylvania's publicly traded companies to showcase economic trends. Along with creating the interface, we will construct the methodology summary, fact sheet, index marketing sheet, and documentation of all the work for future improvement and modification. We will also look to improve the interface by switching to a different coding language as well as getting our documentation and methodology approved from our sponsor (a former S&P Dow Jones Indices CEO, currently on the CBOE board of directors) and start to market it to others via Lehigh infrastructure. 
Parent-Adolescent Discussions about Race and Racism
(Prof. Debbie Laible, Psychology)
Research has been extremely limited thus far on how White families discuss and socialize concepts of race and racism with their (White) children. Will decode this literature and design appropriate studies to discover the answers to this critical societal need.
Pennsylvania Asthma Syndromic Surveillance
(Prof. Hyunok Choi, College of Health)
Build a PA-focused research infrastructure based on collection of secondary data, determine area-level burdens from airborne pollutants that have been shown to cause asthma and other diseases, and design a syndromic surveillance tool to mitigate the negative health effects of poor air quality.
PlasTech Campus – Decontaminating Lehigh's Recycling Stream
(Prof. Ganesh Balasubramanian, Mechanical Engineering; Brian Slocum, Wilbur Powerhouse Design Labs)
This project aims to transform Lehigh's plastic recycling on campus through awareness and education campaigns, striving for an 60% reduction in the contamination levels of Lehigh's recycling streams.  Students would develop marketing signage to test methods of educating the campus community about contamination, including an understanding of the different ways that recycling loads can become contaminated and therefore become useless for recycling, and implement them throughout campus.
PlasTech Ventures – Empowering Women by Recycling Plastic to Produce High Value Products
(Prof. Ganesh Balasubramanian, Mechanical Engineering; Brian Slocum, Wilbur Powerhouse Design Labs)
This project aims to provide income opportunities for women in a partnering local community (Malabon, Metro Manila, Philippines) by building a community-based, micro-recycling facility.  Now in year four of the project, the team has made some real progress in narrowing down an affordable group of technologies and assessing the viability of plastic as a building material.   The focus in the upcoming year of the project will be to finalize a design for a construction brick, prototype a method for manufacturing at scale, and further assess the market opportunities in the Philippines. Through this project, women in the community will be manufacturing up-cycled products themselves, thus emphasizing gender equality and empowerment. Aside from finished goods, useful raw materials may also be made and supplied to local manufacturers to turn into high-value products.
Practical Training and Research in Computer-Aided Drug Discovery
(Prof. Wonpil Im, Bioengineering)
One of the most remarkable features of proteins is their ability of specific, reversible binding to other molecules. Such molecular recognitions are typically associated with almost all biological functions in living systems. Drug compounds bind to proteins, regulating their functions to acquire beneficial effects to treat diseases. Therefore, a better understanding of protein-ligand interactions at the molecular level and accurate quantification or prediction of their binding affinity are at the core of computer-aided drug discovery. Students on this project will aim to study protein-ligand interactions computationally using three families of impactful therapeutic targets for cancers and AIDS. In particular, students will gain practical hands-on research experiences in computer-aided drug discovery. The lectures and tools in CHARMM-GUI (http://www.charmm-gui.org/lecture) will be used for student learning and research.
Regional LGBTQ Archives
(Prof. Mary Foltz, English)
Gathering, curating, and creating an archive and exhibit that tells the story of LGBTQ+ history in the Lehigh Valley. Will serve as a model for similar such histories in regions of the U.S. where this story has not been visible.
Reinforcement Learning and Interpretability
(Prof. Patrick Zoro, Finance)
Take a reinforcement learning based trading strategy (Deep Q-Learning based or based on any other RL-based technique and perform the interpretability of the technique. Additionally, check whether the strategy is already able to replicate well known profitable strategies such as Fama French factor models or successful technical analysis strategies and also if it is able to come up with some new signals/techniques.
Replacing Independent Directors
(Prof. Jesus Salas, Finance)
One of the most well-known problems plaguing publicly traded corporations is known as the principal-agent problem. Executives (agents) manage the company for the shareholders (principals), who are generally dispersed and so have a difficult time monitoring executives. One "solution" for the principal-agent problem is to have boards of directors that supervise executives. Some of these directors must be "independent," which means that they are not employees or relatives of any executive in the publicly traded company. While there is a vast literature on directors and the boards they sit on, virtually nothing is known about the process of replacing independent directors. So, in this project, students will attempt to answer some key questions about this process, based on available data which has been collected but not analyzed.
Research Integrity in Kazakhstan
(Dr. Bill Gaudelli, Dean, College of Education; Prof. Dinissa Duvanova, International Relations; Prof. Khanjan Mehta, Creative Inquiry)
IRBs (Institutional Review Boards) are bodies established by governments to review and monitor research involving human subjects. Lehigh, like all U.S. universities which conduct research, has an IRB and approval is required for any research project that involves working with humans, whether it be conducted in the social sciences, humanities, natural sciences, or engineering fields. Kazakhstan, with dozens of universities and research institutes, has no IRB process for human subjects research outside of clinical (medical) research. As the country continues its transition to a knowledge economy and more research studies are undertaken by universities, there is a need for better research protections and building a culture of research integrity. In collaboration with faculty and students at Almaty Management University and other Kazakh stakeholders, this project will focus on developing the framework for an IRB-like body in Kazakhstan, building necessary partnerships and getting buy-in, and executing on this shared vision and strategy. The result of this work will be to greatly expand Kazakhstan's research capabilities and the integrity of that research, and to ensure that it is always conducted in an ethical manner.
Save Tuba
(Prof. Khanjan Mehta, Creative Inquiry)
Almaty, the commercial capital of Kazakhstan and a major hub in Central Asia, is facing enormous challenges with sustainable urban development. Uncontrolled migration burdens the housing infrastructure, outdoor air quality, access to clean water and waste-water management systems at the constantly-growing periphery of the city leading to negative environmental consequences which compromise economic growth. "Tuba" is a critically-endangered saiga antelope native to the Kazakh Steppes. 'Save Tuba' is a sustainability education platform for Almaty's youngest citizens that connects knowledge, inquiry and action to help students build a healthy future for their communities and the planet. Kazakh students, with guidance from their teachers and families, start recycling, reduce litter, educate their peers, use public transportation, etc. to earn points in a friendly competitive setting. Save Tuba enables K-12 students and their teachers to embark on a series of real, relevant, and meaningful sustainability actions with the goal of long-term behavioral change. The Lehigh team is collaborating with diverse partners to develop and validate the app and pilot-test it with schools in Almaty.
Self-Driving Cars in Urban Environments with Traffic
(Prof. Cristian Vasile, Mechanical Engineering and Mechanics)
Creating a hardware testbed to evaluate the safety of controllers for self-driving cars that takes into account traffic and other obstacles. Design an urban environment in which to test miniature race cars in order to collect appropriate data.
SicklED – Sickle Cell Anemia Diagnostic Device
(Prof. Xuanhong Cheng, Bioengineering)
Sickle cell disease is prevalent in Sierra Leone and contributes significantly to the high mortality rate of children. Currently, diagnosis of sickle cell in Sierra Leone is mostly symptom-based since standard diagnostic equipment requires too much training and infrastructure to be implemented in resource-limited settings. To tackle this problem, students will develop point-of-care test strips for sickle cell disease and study the impact of diagnosis on patients' outcomes. The end goal of this project is to make the tests widely available in Sierra Leone as part of a program to identify and manage sickle cell patients.
Southside Permaculture Park
(Prof. David Casagrande, Sociology & Anthropology / Environmental Initiative; Prof. Al Wurth, Political Science)
Located next to the former Lehigh University Ecohouse on Summit Street, the Southside Permaculture Park has been in development since 2018 and is now ready to take a giant leap forward. Students will have the opportunity to contribute to the design and building of elements in the park, which utilizes a zero-waste philosophy that mimics ecological processes to provide food as well as ecological benefits like urban storm-water runoff reduction, carbon sequestration, and increased biodiversity. The SSPP team will expand community partnerships to make the park a site of education and improved community relations.
STEM Visualizations
(Prof. Srinivas Rangarajan, Chemical and Biomolecular Engineering)
Engineering education needs to embrace new paradigms and pedagogies. Will create a set of interactive computational models as pedagogical tools to convey and understand complex concepts in science and engineering education, both in higher ed and K-12.
Ukweli Test Strips
(Prof. Khanjan Mehta, Creative Inquiry)
Sierra Leone has the highest maternal mortality rate in the world. This team has made inexpensive (2-cent) test strips to screen women for Urinary Tract Infections and Preeclampsia in Sierra Leone. After receiving regulatory approval for the device from the Pharmacy Control Board, the team hired their first employee in January 2020 to mobilize communities, train health workers, and distribute test strips. The goal is to strengthen and expand field operations, design and implement effective messaging strategies, develop stronger data collection systems, and demonstrate the ability of the test strips to save lives with the goal of convincing the public health system (and donors) to integrate the test strips into the national healthcare system. The team will also explore how these test strips can be introduced in Liberia, Madagascar, and other countries with similar challenges.
Zero Hunger College
(Prof. Ganesh Balasubramanian, Mechanical Engineering; Dr. Elmer Soriano, Civika Asian Development Academy)
This project team will work closely with the Civika Asian Development Academy and the Development Academy of the Philippines, Philippines-based organizations that develop public and private sector leaders throughout Southeast Asia through project-based work. The direct focus of this project is the creation of a "Zero Hunger College" using data-driven and data-centric approaches to alleviate hunger and food supply challenges in smaller provinces and villages of the Philippines. The Zero Hunger College will do this by inviting women from small villages to attend a six-month "school" that leverages indigenous knowledge as well as modern agricultural techniques to help them grow more food to supply their villages with nutrition and sustenance. The team is currently in early design stages, developing a curriculum and establishing partnerships, and the goal for the upcoming year is to pilot-test "classes" and refine the model before conducting fieldwork in the Philippines.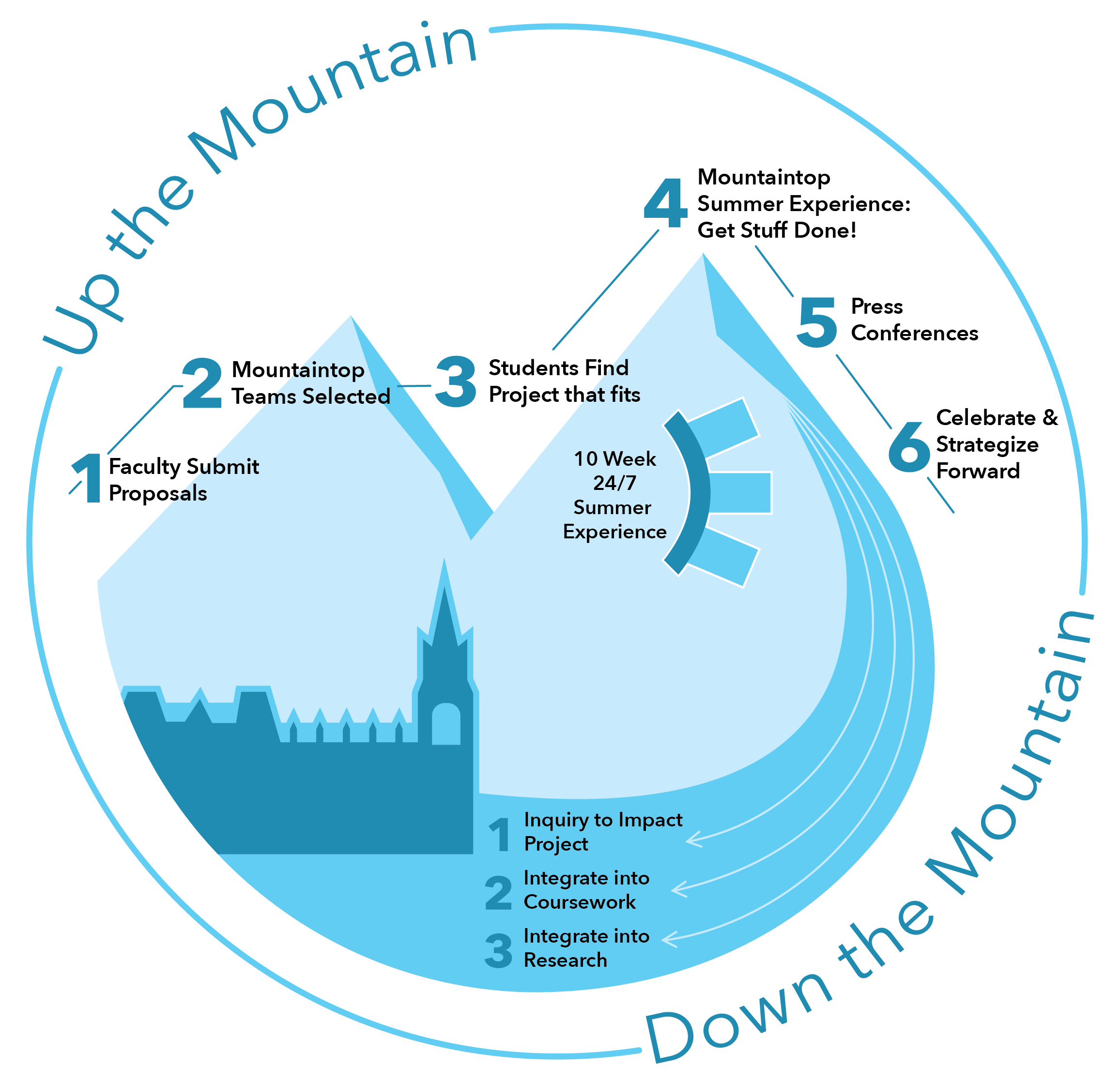 2021 Mountaintop Summer Projects
*Projects are listed in alphabetical order.
GSIF/LVSIF/CSIF projects can be found on their respective pages; these projects are part of one of the Impact Fellowship programs in addition to participating the mountaintop summer program. For more information see: go.lehigh.edu/gsif | go.lehigh.edu/lvsif | go.lehigh.edu/csif.
D4I projects can be found on the D4I page, although they also partcipate in the Mountaintop Summer Project. For more information see: go.lehigh.edu/d4i
American Indian Community Health and Education Projects through the Institute for Indigenous Studies
Faculty Mentors: Sean Daley and Christine Daley (College of Health)
Description: The dream of this project is to eliminate American Indian health disparities and health inequities through community-based outreach, engagement, and participatory research programs. Students on this project will employ a community-based participatory research approach where American Indian community members are involved at all stages in addressing a myriad of health and education challenges, including tobacco use; COVID; tribal enrollment laws; and cultural and social issues on tribal lands.
Autonomous Driving for Underwater Drones
Faculty Mentor: Rosa Zheng (Electrical & Computer Engineering)
Description: Underwater unmanned vehicles are currently used throughout the world for a myriad of research applications: environmental monitoring, biodiversity testing, infrastructure inspections, and more. These drones are typically tethered, but if tether-less operation could be achieved and underwater drones were free to move wherever without fear of obstacles or objects, the research possibilities would open up to an incredible degree. Students on this project will be able to leverage faculty from across multiple departments at Lehigh including those involved with the Autonomous and Intelligent Robotics Laboratory, as well as external partnerships, to test and implement autonomous driving solutions for underwater drones.
Environmental Pollution and Asthma in Pennsylvania
Faculty Mentor: Hyunok Choi (College of Health)
Description: Asthma represents a globally pressing chronic disease, which afflicts over 300 million people worldwide. Prior research conducted by the faculty mentor has revealed that early-life exposure to fossil fuel-emitted air pollution independently contributes to doctor-diagnosed asthma. The aims of this project are to build research infrastructure and propose regional and global remediation policies against fossil fuel burning to protect children worldwide. In the short term, we will focus on Pennsylvania-specific data and uncover the areas of greatest pollution burden across Pennsylvania counties and municipalities.
How White Mothers Discuss Peer Victimization with Young Children
Faculty Mentor: Debbie Laible (Psychology)
Description: Despite the overwhelming evidence that most White children hold negative stereotypes about members of other races, we know nothing about how White parents teach their children about race. The very limited research so far suggests that they may actively avoid discussions about this sensitive and important issue. Students on this project will deeply examine the existing knowledge of the ways that White parents address race, and contribute new knowledge to the field that could have immense consequences for our understanding of how parenting influences children's development of racial attitudes in the U.S. and, potentially, worldwide.
Mathematical Modeling and Syndromic Surveillance of COVID-19 in Pennsylvania
Faculty Mentor: Thomas McAndrew (College of Health)
Description: The COVID-19 pandemic has brought renewed attention to the modeling and surveillance systems used to forecast and track the spread of a public health threat. What has become clear is that there is a need for a single-coordinated surveillance system that collects data and builds computational forecasts to monitor the trajectory of outbreaks at the state and county level. Students on this project will build an integrated surveillance and forecasting system to support public health decision making for the state of Pennsylvania, integrating a wide array of data from various models and sources. This system would have wide-ranging effects on public health decision making, and could reduce the incidence and impact of COVID-19, and other pandemics to come, on the state of Pennsylvania and hopefully, nation- and world-wide.
Faculty Mentor: Julie Miwa, Biological Sciences
Description:  The dream of NeuroSalon is to build a bridge between brain sciences and the arts, and encourage stimulating, thought-provoking, and consistent dialogue between them. NeuroSalon engages cross-sectional nodes of inquiry for many different disciplines, including neuroscience, psychology, philosophy, drama, music, arts, etc. One focus of the summer will be to explore the relationship between creative thought and empathy, and the need to create open mental spaces for each of these cognitive domains. Students will workshop ideas for a set of NeuroSalon art (sculpture and murals), a website of ideas, and development of a multimedia performance art piece. We plan for the work to be performed in spring 2022, in conjunction with a panel discussion on creativity. 
Faculty Mentor: Steven McIntosh (Chemical Engineering)
Description: Approximately 1.2 Million homes in Ghana lack access to electrical power, and as the country's electricity infrastructure expands, fossil fuels are leading the way. Students on this project will investigate and begin to develop solutions around the feasibility of implementing renewable energy in Ghana, looking at cost, power requirements, potential impact on communities, possible sites and funding sources, etc. In the short term, the project team will work on designing and developing low-cost solar cells that could feasibly be used in a country with the socioeconomic structure of Ghana.
Rewriting the Script 3.0: Designing Virtual Racial Embodiment Interactions to Transform U.S. Race Relations
Faculty Mentor: Valerie Jones Taylor (Psychology)
Description:  Can virtual reality (VR) be leveraged to "practice" positive interracial interactions? That is the question being answered by Rewriting the Script, a large-scale project that draws from fields as diverse as psychology, theatre, and computer science. Students on this project will script, design, and build VR simulations for moments where interracial contacts can go badly, allowing for "practicing" those moments from all perspectives in order to improve them when they occur in real life, thereby reducing subtle biases and increasing the comfort level felt by people of all races when moving through a multiracial society.
Self-Driving Cars in Urban Environments with Traffic
Faculty Mentor: Cristian Ioan Vasile (Mechanical Engineering)
Description: Building on previous work, students on this project team will be creating a hardware testbed to evaluate the safety of controllers for self-driving cars that takes traffic patterns into account. The testbed will construct a miniature urban environment and utilize robotics software to, ultimately, make recommendations about the use of self-driving cars on Lehigh's campus and in other urban and campus environments. Students must be able to quickly find creative solutions to design and set up traffic experiments under multiple functional and aesthetic requirements, and will have the opportunity to work in areas like robotics, machine learning, architecture, project management, mechanical and electrical design, and more.
Faculty Mentors: David Casagrande (Earth & Environmental Sciences), Al Wurth (Political Science)
Description: Located next to the Lehigh University Eco-house on Summit Street, the Southside Permaculture Park has been in development since 2018 and is now ready to take a giant leap forward. Students will have the opportunity to contribute to the design and building of elements in the park, which utilizes a zero-waste philosophy that mimics ecological processes to provide food as well as ecological benefits like urban storm-water runoff reduction, carbon sequestration, and increased biodiversity. The SSPP team will expand community partnerships to make the park a site of education and improved community relations.
Faculty Mentor: Srinivas Rangarajan (Chemical & Biomolecular Engineering)
Description: STEM education, particularly engineering education, will become increasingly personal and experiential. This project will design and create interactive visualizations as a means of conveying complex concepts in science and engineering, giving students new ways to understand how these concepts play out in active, real time. Ultimately, these visualizations will be incorporated into Lehigh courses with the possibility of implementation at other institutions as well.
Superbugs, COVID-19, and the Media
Faculty Mentors: Sharon Friedman (Journalism & Communications), Amanda Greene (Humanities Lab)
Description: With COVID-19 dominating the media and the world's consciousness over the past year, comparatively little attention has been paid to the other great looming public health crisis: antibiotic resistance. This project will investigate media coverage and mass communication tactics in order to find solutions to this gap in the public's knowledge. Students will be able to conduct media analysis studies, network with distinguished media analysts and experts in public health, and data synthesis, and will participate in the development of new questions and solutions for this critically important problem.
2020 Mountaintop Summer Experience Projects~Click on the Image for Project Information
Integrating Molecular & Bioengineering to Address Microbial Pathogenesis
Studied strategies to reduce TB and listeriosis through identifying bacteriophage that may be effective in treatment and developed sensors to detect food-borne pathogens
Innovation in Ventilation
Used housing mock-ups, database, and literature research to explore the scope and social context of new ventilation strategies
Wislawa Szymborska Documentary
Produced a short 30-minute film on the life and work of Nobel Prize-winning poet Wislawa Szymborska
Student Designed Supplements for ECO 001
Developed a portfolio of video and textual supplements to assist other students in mastering concepts and methods used in ECO 001, Principles of Economics
Nanoparticle Synthesis for Water Purification in the Developing World
Worked on methods involving nanoparticles and sunlight as practical and affordable means for removing pathogens from drinking water
Developed small-scale model of a combined agricultural-hydroponic system to assist PeaceCorps in creating workshops for intended areas of deployed of the system
Designed a simple, low-cost, aesthetically pleasing hand prosthetic for Cambodia
Designed a low-cost device for pumping water from shallow wells, specifically in an East African context
Designed and constructed a small, transportable structure whose physical form changed in response to human presence
Developed a charging stand that provides augmented functions such as a nighttime clock, weather information, and more
Early Head Start in the Lehigh Valley
Explored and addressed barriers to preventative care among under-served families and their young children in the Lehigh Valley
Assessing Vitamin A Deficiency
Developed a practical and economical device for measuring Vitamin A levels in preschool-aged children
Devised approaches to learning that aligned with how modern students live and learn by using digital devices while moving beyond traditional media
Designed and implemented a responsible system for food waste disposal at Lehigh University
Centered on the redesign and redevelopment of Lehigh University Mountaintop Campus into a "smartspace"
Biobanks—storage facilities for biomedical supplies—are currently independent operators without a connected network to share information and locations. This project aims to eliminate that hindrance by creating a new mechanism for biobanks and those in need of biological material to find one another and conduct needed exchanges. Lead Mentor: Ana Alexandrescu
Bone Growth v. Vascular Growth: Which Comes First?
The central question for this project is to define the relationship between bone growth and vascular patterning. For example, does increasing nutrient supply via blood vessels drive bone growth, or, do growing bones call on new blood vessels for support? Students involved in this project will address this question using the zebrafish regenerating fin. We have identified different strain backgrounds of zebrafish that exhibit differences in the length of bony fin ray segments and differences in the size and organization of blood vessels. Students can determine how best to manipulate these systems and begin to provide mechanistic insights into the drivers of tissue growth and size. Lead Mentors: M. Kathy Iovine, Linda Lowe-Krentz
Breaking the Buchanan Street Wall: Using History to Foster Engagement Between Lehigh Students and Nearby Small Business Owners
Near Lehigh University's campus is the vibrant, ethnically diverse 4 Blocks International commercial district. But it is an area Lehigh students rarely frequent; an invisible wall seems to divide Lehigh folks from the neighborhood. Using techniques of creative placemaking (storygathering with local merchants, web-based storysharing, and tours for Lehigh students) our team will work to foster dialogue and connections between the Lehigh University community, and these diverse businesses and their proprietors, in efforts to break down that imaginary wall. Lead Mentor: Kim Carrell-Smith
Developing a Coding System to Assess Parent-Child Communication Quality in Diverse Contexts
Our project aims to develop a coding scheme that will capture the quality of parent-child communication in video during an 8-minute conversation between mother-child dyads who were part of the Early Head Start Research and Evaluation Project. The goal of this mountaintop project will be to operationalize differences in language use and non-verbal communication strategies across ethnically diverse high-risk mother-child dyads (who discussed areas of conflict in their relationship). Developing a tool to measure and evaluate these differences in a culturally diverse sample will allow us to identify how specific characteristics of parent-child communication relate to a range of family characteristics and child outcomes in diverse families. Our coding scheme will be made available to other researchers who do work on ethnically diverse families. Lead Mentor: Debbie Laible
Forging Ahead through Engineering Leadership
Erwin and Ludwig Loewy changed the world with their engineering innovations in metal forming. Their ideas, and even the machines they built, are still in use more than half a century later, their history is known only to limited audience. The goal is to develop an interactive exhibit to maximize understanding of the Loewy technical accomplishments. Resources include the Loewy archives at Lehigh, a potential visit to company where forging presses are still in operation, and opportunity for partnership with the National Museum of Industrial History in Bethlehem, an affiliate of the Smithsonian Institution. Lead Mentor: Wojtek Misiolek | Mentors: Lois Fischer Black, Stephen Cutcliffe, Scott Garrigan
Gambling on Community: Ten Years of the Casino in Southside Bethlehem
When Bethlehem Steel closed its doors in 1995, the Lehigh Valley lost a corporate employer and indeed a corporate icon. When the Sands Casino opened its doors in May 2009, the Lehigh Valley gained a new corporate employer and icon. Our film project will research and document the impact of the Sands Casino on the Lehigh Valley community, and in particular, Southside Bethlehem. Students will engage in public research methods, including the study of government documents, employment records, and city council minutes. We will also conduct an abundance of interviews with community leaders who can address the impact of the casino. Lead Mentor: Michael Kramp
Human Interaction with Agile Autonomous Robots
Autonomous robots have been rapidly becoming an integral part of our daily life. Robots have great potentials to collaborate with humans in various applications such as search engines, self-driving cars, industrial robotics, medical surgeries, and surveillance. Fast real-time perception and control by a robot are the key factors for successful collaboration with humans. The objective of this project is to develop novel algorithms for perception and control in order to minimize risk of failures in human-robot interactions. Lead Mentor: Nader Motee
Lehigh and the Valley: A Symbiotic Future?
There seems to be a standing narrative at Lehigh University that low-income communities in the Lehigh Valley perceive our institution as detached from its socioeconomic environment and as an elitist place catered to the privileged classes. The objective of this project is to engage these communities through adequately designed survey methods to asses to what extend this narrative is supported by evidence. The analysis and results are vital to inform the strategy, to be designed, to achieve one of the University's long-term goals of developing a sustainable and mutually beneficial relationship with low-income communities in the greater Lehigh Valley. Lead Mentor: Luis Brunstein
Lehigh Hyperloop: Exploring Campus Transportation
Given Lehigh University's expansion plans over the next few years, the Lehigh Hyperloop team is focusing on researching and developing a theoretical framework for safe and reliable autonomous transportation [on Lehigh's campus]. We will identify the areas with the greatest potential for impact, and develop solutions accordingly. At our project's completion, Lehigh will be better equipped to handle the future of campus transportation; ideally, our solution will also be scalable for industry use.
Negotiating Privacy Boundaries: the Social and Collective Aspects of Privacy Management
Privacy is a fundamental concerns in communication and information technology. The management of information privacy becomes increasingly challenging when 1) personal information posted online gets seen by people we do not expect; 2) friends share information concerning us without permission; and 3) private information is collected, stored, and used by devices and systems unbeknownst to us. We no longer can protect our privacy on our own, but need help from the people and systems who access our private information. This project aims at exploring new possibilities for collaborative privacy management, developing new understanding, making new discoveries, and creating new tools. Lead Mentor: Haiyan Jia | Mentors: Eric P.S. Baumer, Ting Wang
Developed new 3D printing technology and innovated on useable, printed concrete for future uses in construction
Created and designed an app to assess and monitor student motivations and progress in mathematics
Created Poly-Tics, a web platform that analyzed social media in order to help people recognize media bias and diversify their political media.
DataLight is an interactive media installation that provides people with an intuitive understanding of their own personal data
Conducted research studies on the psychological factors that affect how people receive and are deceived by news sources
Greening the UN's Missions
Developed a tool to enable select UN Missions to align the 17 UN Sustainable Development Goals in their facilities and operations
Examined care delivery and impediments to healthcare access in vulnerable populations, specifically the homeless in the Lehigh Valley
Explored the relationship between psychology and design and created objects to help cope with mental illness
Created a free, collaborative online space for users to compose loop-based music.
Discovered an efficient way to convert gypsum drywall into high value fertilizers, reducing construction waste
Designed and manufactured garments embedded with a wide-range of technology for practical uses.
Designed technologies for aging adults with consideration of social and medical concerns and factors
Asa Packer: An Extraordinary Man in Extraordinary Times
Studied the history of Asa Packer and attempted to tell his story despite the lack of previous public scholarship and archival sources
Actions to Deliver Racial & Ethnic Equity in Education
Advanced equitable educational outcomes for low-income and minority students in communities in the US and Czech Republic
Civic Hacking, Resource Mapping, & Using Community Data for Change
Explored issues of civic data, asset mapping, and community engagement to identify potential social issues and needs
"Weaving Our We" : Arts & Humanities for Civic Engagement
Designed a dedicated arts and humanities program that also engaged community partners for the public good
Atomic Layer Deposition Instrument
Built an Atomic Layer Deposition Instrument which deposits an extremely thin layer of material that adheres to the surface it is applied on
Passive Learning Techniques to Identify Pseudoscience
Designed a strategy game where players learned to differentiate between science and psuedoscience
Flow Networks for Pipeline Blockages & their Detection
Studied the complexities of locating and solving the problem of blockages in large pipeline networks
History of Africana Studies Film
Created a film that explored how the Africana Studies program at Lehigh University has addressed question of race within the campus environment
Technology & Child Development: Geometric & Spatial Learning
Built an app that promotes child development while utilizing the back-end analytics to further research in the field
Established a free website that allows people in the Lehigh Valley to trade resources, products, and other items in order to reduce waste
Researched how niche markets affect product design and tested biomedical technology methods in the design process in orthopedic shoes
Explores the role of policy think tanks, big data analysis, social entrepreneurship, consulting, and scholarship in sustainable development
Developed technology that enables schools to collect, analyze, and utilize data in new and unexpected ways
Researched, designed, play-tested, and produced several social simulation board games
Created a new scholarly field of sports study through digital measurement and representation of physical capacity and performance
Sustainability in the Developing World
Identified and quantified aspects of the NGO/education system that may not be replicable, scalable, and/or self-sustaining
Refugee Transition through Empowerment & Education
Identified and considered ways educators can appropriately prepare and support refugee students as they transition into new communities
Urban Planning & Transportation at Lehigh University
Studied the potential environmental impacts of campus transportation to design a smarter system for Lehighs campus
Creative Writing & Social Justice
Explored how creative writing encourages alternate social, personal, and political lifestyles and studied writers' growth through community interaction
A New Portal: Connecting the World through an LCD Globe
Designed an LCD globe display to serve as a connection portal between people and places and to study the integration of art and technology
Low-Energy Sustainable Farming
Achieved a fully energy-independent food growing enterprise at Lehigh University Goodman Campus Community Garden
Studied and optimized the design of standalone mobile structures that house research activities
Designed exoskeleton appliances that aid in rehabilitation for patients with muscle disorders of the hand
Creative Learning Activity Portfolios
Built a portfolio of creative arts learning activities for public school students
Hip Hop and Entrepreneurship
Explored the market space at the intersection of hip hop and entrepreneurship and developed a viable app for that space
Interviewed Lehigh University faculty members of 40+ years to explore the growth and value of teaching over time
Explored the role that storytelling plays in Bethlehems social and political life and created potential programs and products that could have sustainable community impact
The Lost Village of Christians Spring
Studied the now-lost Moravian community of Christians Spring through the use of archival sources
Extra-Terrestrial Greenhouses
Attempted to create an agricultural system that can be maintained in extreme conditions with few resources, as in outer space
Conservation of the Highly Endangered Desert Pupfish
Explored methods, in a lab setting, to conserve the highly endangered desert pupfish
Engineering Equality Documentary
Created a full documentary on the history of diversity at Lehigh University and completed an instructional guide for classroom use to accompany the film
Printing Technology & Tradition: Exploring Printing & Pattern in a Global Context
Explored the evolution of global textile patterns using a combination of traditional printmaking techniques and modern technology
Lehigh University in Senegal: Sustainable Building and Community Living
Attempted to develop innovative approaches to building components to improve environmental performance and occupant satisfaction in the West African context
Biomanufacturing: Functional Material Synthesis for Sustainable Energy
Harnessed biomanufacturing techniques to create a photovoltaic cell electrode
Founders Day Performance Experience
Created a new piece fro the presidential inauguration at Founders Day 2015 by using data to enhance digital delay on choral sound and create a visual display
Using National Datasets to Research Early Childhood Development
Established how to efficiently access and analyze large datasets from multi-organization/state databases
Took a deep exploration of the geography of bias - how it varies geographically and the underlying reason why
Tested the applicability of topology optimization and additive manufacturing technology in fabricating 3D printed small inhabitable structures
Developed small wave energy converter designs to explore various strategies for harvesting wave energy and to provide experiential learning opportunities for younger students
Development of Chemical Analysis Tool with 3D Printing
Utilized a 3D printer to conceptualize a prototype of a high spectral resolution infrared spectrometer with a small footprint
2021 Mountaintop Projects