What are Mountaintop Projects?
Mountaintop projects are interdisciplinary deep dives where faculty, students, and external partners come together and take new intellectual, creative, and/or artistic pathways that lead to transformative new innovations, new expressions, and new questions. We expect students to take radical ownership in their projects, and envision faculty mentors as partners and co-creators striving to propel their projects forward on the journey towards tangible, sustainable impact: impact which builds the skillsets, mindsets, and portfolios of pioneers and change-makers in a rapidly changing world.
When does the Program take place?
The Mountaintop Summer Experience (MTSE) runs for approximately 10 weeks (2022 program dates are May 31st - August 5th). At this time, the program is in-person for all students – no virtual component will be part of the summer. Some Associates may be able to work remotely if program leaders and faculty project mentors agree. All project teams will have a work space in Building C, although we understand that some teams will have to conduct some or most of their work at other locations (on campus or in the surrounding community).
All Mountaintop Fellows (funded with summer stipends) are expected to continue working on their projects in the Fall 2022 semester through the CINQ 389 course. Enrollment information will be provided to these students at a later time. CINQ 389 is a variable-credit course, but we have a strong preference for 2 or 3 credits of enrollment.
How are Students Funded? What is the difference between Fellows and Associates?
Students selected as Mountaintop Fellows are paid a stipend of $5,000 for undergraduates, or $6,000 for graduate students, for the summer. These stipends are paid in five biweekly installments beginning mid-June and ending mid-August. Projects typically have two, or at most three, Fellows. Fellows make a full-time commitment to their projects for the 10 weeks of the program, and are not allowed to take summer courses or have jobs, internships, or vacations that would substantially take them away from their project work. Fellows are also expected to continue working on their projects through the Fall 2022 semester (and possibly beyond) by enrolling in the CINQ 389 course. Fellows receive lunch in Building C each weekday that Mountaintop is in operation, and are expected to be in attendance at all relevant presentations, workshops, meetings with Innovators in Residence, and other program opportunities, throughout the summer.
Mountaintop Associates are not paid a stipend, and make a part-time commitment (typically 10 hours per week) to their project. Associates receive lunch in Building C each weekly that Mountaintop is in operation, and are invited and strongly encouraged to attend all relevant presentations, workshops, meetings with Innovators in Residence, and other program opportunities, throughout the summer. Associates are strongly encouraged to continue working on their project through the CINQ 389 course in the Fall 2022 semester and beyond. Associates who have high financial need may inquire about financial assistance which may be available.
Lead faculty project mentors can utilize up to $500 in project expenses. These funds are not tracked by the Office of Creative Inquiry, and faculty may use them as they choose as long as they are relevant to the project. However, the intention of these funds is to help disseminate the work of the project (through conference registration fees and the like) and/or to supplement (or in some cases support) project expense budgets. If students incur project expenses during the summer, there is a system for providing reimbursement from project accounts, which will be handled by program leadership.  **NOTE:  These funds are subject to adjustment or change if unexpected budgetary constraints arise**
Additional project expense budgets beyond the allocated $500 (for needed equipment, supplies, reagents, resources, etc.) will be considered as requested.
How are Students Selected?
Mountaintop 2022 applications are open until April 10th and can be accessed here:
https://lehigh.co1.qualtrics.com/jfe/form/SV_6g45fbilEjvu8N8
The application form includes a list of available projects, and students will be asked to rank their 1st and 2nd choices of projects. After the application period closes, faculty mentors will be given applications for those students who indicated an interest in their project and will typically contact those students for a brief interview. The Office of Creative Inquiry does not assign students to specific projects; those decisions are entirely at the discretion of the faculty lead mentor(s). Demonstrating a high work ethic, dedication to and support for the goals of the project, and strong collaboration skills are usually more important selection criteria than specific technical knowledge or skill sets, although those should be noted on applications as well. Fellows usually need a broader set of skills and mindsets, whereas Associates may be assigned to specific parts of the project, so technical skills may become important in those cases.
Faculty mentors will inform the Office of Creative Inquiry of their selections within two weeks after applications close, and students will be informed by the end of April 2022.
Faculty mentors are welcomed and encouraged to recruit students to their own projects. Those students will need to fill out an application form to the program, but can be automatically accepted based on faculty recommendation / request.
What Opportunities are Programmed for Students?
While the primary focus of the summer will be making progress on projects and taking a deep dive of exploration and achieving deliverables, MTSE offers ongoing developmental, informational, and practical opportunities to students. In addition, we will invite an array of subject matter experts, working professionals, and potential partners as "Innovators in Residence," many of whom will offer broad-topic master classes, all of whom will meet with selected individual project teams who might benefit from their expertise. Fellows are required to attend sessions with Innovators in Residence if invited; Associates are expected to attend unless they have a compelling conflict.
At regular intervals, student teams will present their work to one another and/or to public audiences. Toward the end of the summer, we will likely be hosting a Summer Expo in Building C, where projects will be presented in poster format (unless other formats are negotiated) alongside projects from the STEM-SI summer program and various REUs.
Submission Process and Deadline
Proposals for 2023 Mountaintop Summer Experience projects must be submitted by the faculty member who will serve as lead mentor for the project. Staff members may submit proposals with approval from their department or stem leadership. Submit proposals in a PDF document, attached to an email sent to mountaintop@lehigh.edu, with the subject line "Summer 2023 Proposal: <Project Title>."
Deadline for proposal submission is 11:59pm EST on 26 February, 2023.
Proposals should be ~2 pages in length and should include the following:
DEMOGRAPHICS
• Project title (will be used in program communications and marketing materials)
• Name of lead faculty mentor (also the primary faculty contact)
• Names of partnering faculty/other mentors if applicable •Names of students are already committed to the project, if any
• Types of students who would be ideal for this project…majors, skill sets, competencies, interests, etc.
• Ideal location for conducting your work (if some form of in-person work is possible)...Building C or another on-campus location
• Special equipment or setup you anticipate needing for your project
DREAM and IMPACT
• What is the dream?
• How will you pursue this dream?
• What is the topic/question/possibility/mode of inquiry you will employ?
• What is the project's potential for impact? What might your impact look like? What disciplines, fields, or spheres will your work influence?
• How is this project collaborative, and what communities of practice would be involved in seeing it through, evaluating its progress, assessing its importance?
PROJECT SCOPE
• What are you inspired by, what are you building on, and how are you standing on the shoulders of giants?
• What is the new intellectual/creative pathway you are taking?
• Why is this a game-changer?
• Who cares and why? What communities of practice are you contributing to, and calibrating against?
What are the Expectations for Faculty Project Mentors?
Faculty project mentors are not expected to "teach" in the usual sense. Students drive the work and learn what they need in a just-in-time manner. Faculty mentors, along with program leadership, will help connect students with the resources that they need to get up to speed in order to make appropriate progress on their project. In Creative Inquiry, students take "radical ownership" of their projects and are expected to make substantive intellectual contributions that could lead to co-authorship on publishable research articles, presentations at professional conferences, patent applications, etc.
The most successful MTSE and D4I students are those who demonstrate self-efficacy, an execution-focused mindset, strong teamwork skills, openness to learning new skill sets and mindsets, and a comfort level with open-ended questions and problems. The primary roles of the faculty mentor are to provide advice, resources, and guidance syncing up with the team on a regular basis (at least weekly) to monitor progress. 
2022 Mountaintop Summer Experience Projects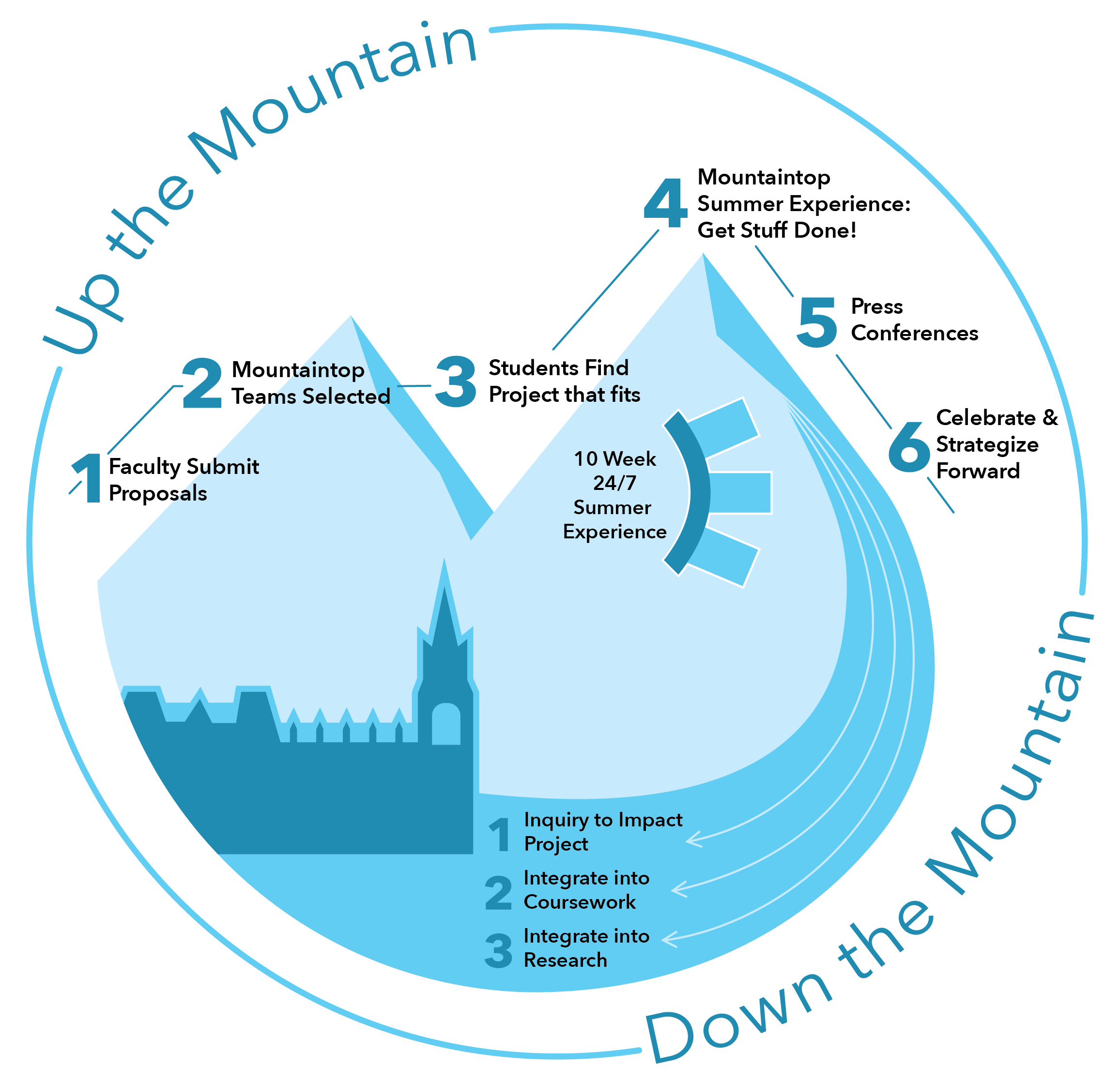 2021 Mountaintop Summer Projects
*Projects are listed in alphabetical order.
GSIF/LVSIF/CSIF projects can be found on their respective pages; these projects are part of one of the Impact Fellowship programs in addition to participating the mountaintop summer program. For more information see: go.lehigh.edu/gsif | go.lehigh.edu/lvsif | go.lehigh.edu/csif.
D4I projects can be found on the D4I page, although they also partcipate in the Mountaintop Summer Project. For more information see: go.lehigh.edu/d4i
1. American Indian Community Health and Education Projects through the Institute for Indigenous Studies
Faculty Mentors: Sean Daley and Christine Daley (College of Health)
2. Autonomous Driving for Underwater Drones
Faculty Mentor: Rosa Zheng (Electrical & Computer Engineering)
3. Environmental Pollution and Asthma in Pennsylvania
Faculty Mentor: Hyunok Choi (College of Health)
4. How White Mothers Discuss Peer Victimization with Young Children
Faculty Mentor: Debbie Laible (Psychology)
5. Mathematical Modeling and Syndromic Surveillance of COVID-19 in Pennsylvania
Faculty Mentor: Thomas McAndrew (College of Health)
6. NeuroSalon
Faculty Mentor: Julie Miwa, Biological Sciences
7. Renewable Energy in Ghana
Faculty Mentor: Steven McIntosh (Chemical Engineering)
8. Rewriting the Script 3.0: Designing Virtual Racial Embodiment Interactions to Transform U.S. Race Relations
Faculty Mentor: Valerie Jones Taylor (Psychology)
9. Self-Driving Cars in Urban Environments with Traffic
Faculty Mentor: Cristian Ioan Vasile (Mechanical Engineering)
10. Southside Permaculture Park
Faculty Mentors: David Casagrande (Earth & Environmental Sciences), Al Wurth (Political Science)
11. STEM Visualizations
Faculty Mentor: Srinivas Rangarajan (Chemical & Biomolecular Engineering)
12. Superbugs, COVID-19, and the Media
Faculty Mentors: Sharon Friedman (Journalism & Communications), Amanda Greene (Humanities Lab)
2020 Mountaintop Summer Experience Projects
1. A Stormwater Smart Campus
Faculty Mentor: Ethan Yang (Civil and Environmental Engineering)
2. Air Quality in Almaty
Faculty Mentor: Dinissa Duvanova (International Relations)
3. Beyond Bars
Faculty Mentor: Bill Whitney
4. Copra Processing and Production
Faculty Mentors: Sabrina Jedlicka (Materials Science and Engineering) and Christina Haden (Mechanical Engineering and Mechanics)
5. Data-Driven Image-Based Calibration for SLA/DLP Printing and Lithography
Faculty Mentor: Yaling Liu (Bioengineering, Mechanical Engineering and Mechanics)
6. Development Lab Tasks to Measure How European-American Mothers Socialize Racial Attitudes in Young Children
Faculty Mentor: Debbie Laible (Psychology)
7. Diagnosing Autism in Africa
Faculty Mentor: Kristi Morin (College of Education, Special Educaiton Program)
8. Early Life Sensitization to Air Pollution and Childhood Asthma Pheno-Endotype ESCAPE
Faculty Mentor: Hyunok Choi
9. Expanding LGBT Community Archival Holdings and Exhibiting Archival Materials to Engage Communities in Regional LGBT History
Faculty Mentor: Mary Foltz (English)
10. Food Product to Fight Malnutrition and Stunting 
Faculty Mentor: Lori Herz (Bioengineering)
11. Immersive Virtual Reality and the Lehigh River Watershed
Faculty Mentors: Al Bodzin (College of Education, Learning Teaching and Technology), David Anastasio (Earth and Environmenral Science) and Tom Hammond (College of Education, Teaching, Learning and Technology)
12. Modeling and Syndromatic Surveillance of COVID-19 in Pennsylvania
Faculty Mentors: Thomas McAndrew, Hyunok Choi and Halcyon Skinner (College of Health)
13. Mech-A Platform for Robotics Outreach Education
Faculty Mentor: Corey Montella (Mechanical Engineering and Mechanics) 
14. Mothers of Sierra Leone
Faculty Mentors: Michael Kramp (English) and Fathima Wakeel (College of Health)
15. Mushroom Production System
Faculty Mentor: Khanjan Mehta (Creative Inquiry)
16. NeuroSalon
Faculty Mentor: Julie Miwa (Biological Sciences)
17. PlasTech Ventures-Empowing Women by Recycling Plastic to Produce High Value Products
Faculty Mentors: Ganesh Balasubramanian (Mechanical Engineering and Mechanics), Brian Slocum (Design Labs) and Don Morris (Earth and Environmental Sciences)
18. Preventing School Based Violence Through Gender Expansion and Equity
Faculty Mentor: Nicole Johnson (College of Education, Counseling Psychology program)
19. Promoting Experiential Learning and Creative Inquiry in Science and Engineering via Interactive Online Visualization-STEM
Faculty Mentor: Srinivas Rangarajan (Chemical and Biomolecular Engineering)
20. Rewriting the Script 2.0 Designing Vitual Racial Embodiment Interactions to Transform US Race Relations
Faculty Mentor: Valerie Taylor (Psychology)
21. Save Tuba
Faculty Mentor: Khanjan Mehta (Creative Inquiry)
22. Testbed for Self Driving Cars in Urban Environments with Traffic
Faculty Mentor: Cristian-loan Vasile (Mechanical Engineering and Mechanics)
23. The Political Psyche of Young People
Faculty Mentor: Anthony DiMaggio (Political Science)
24. Virtual Lives of Vaping 
Faculty Mentors: Haiyan Jia (Journalism and Communication), Amanda Greene (Humanities Lab) and Eduardo Gomez (College of Health)
25. Ukweli Test Strips
Faculty Mentor: Khanjan Mehta (Creative Inquiry)