Applications for the 2022 GSIF have been EXTENDED! Now due October 31st
Program Overview
Global Social Impact Fellows are a highly self-selected cohort of undergraduate and graduate students from all disciplines across Lehigh University focused on addressing sustainable development challenges in low-income countries. GSIFs advance Global Inquiry to Impact (GI2I) projects in the Spring and Fall semester (total six credits) and engage in faculty-guided fieldwork with diverse local partners in the Summer session. The courses, workshops, retreats, and immersive experiences of this program integrate experiential learning, research, and entrepreneurial engagement with students leading original and ambitious projects with in-country partners in diverse countries. A select number of GSIFs have the opportunity to participate in the Mountaintop Summer Experience to advance their project.
Through engaging in such meaningful, authentic, and incredibly alive projects, Fellows develop skillsets, mindsets, and portfolios to solve complex societal challenges. Fellows build sustainable enterprises, publish their works in peer-reviewed journals, integrate their insights into national policies, and champion social movements that influence the lives of millions of people. The quest for sustainable impact drives the philosophy, pedagogy, and operations of this program with the objective of preparing students to lead lives of impact.  
**Fieldwork for summer 2022 is subject to change due to ongoing pandemic-related restrictions on travel. At this point, we anticipate fieldwork in the Philippines and Kazakhstan will occur during the latter half of July 2022, with fieldwork in Sierra Leone occurring in the first three weeks of August 2022**
Program Benefits: What's In It for Me?
An opportunity to work collaboratively with the most driven students from across the university on ambitious multi-year projects striving to deliver social impact.
Work across disciplines, cultures, language and time barriers to develop practical, innovative, and sustainable solutions with in-country partners - through virtual teaming in the Spring and Fall semester and on-the-ground fieldwork in the Summer session.
Engage in fieldwork (in Sierra Leone, Philippines, or Kazakhstan) with faculty mentors with decades of experience conducting research, designing solutions, and building systems in developing countries.
Conduct original research and get your work published in journals and conference proceedings. Travel to conferences to present your work and build your professional network.
Develop your life skills and build life-long friendships with peers at Lehigh and with some amazing people in the countries we work in.
Distinguish yourself and become more competitive for prestigious fellowships and awards, graduate / professional schools, or that dream job.
Impact! Conducting research and jumpstarting social enterprises is incredibly difficult but also deeply rewarding.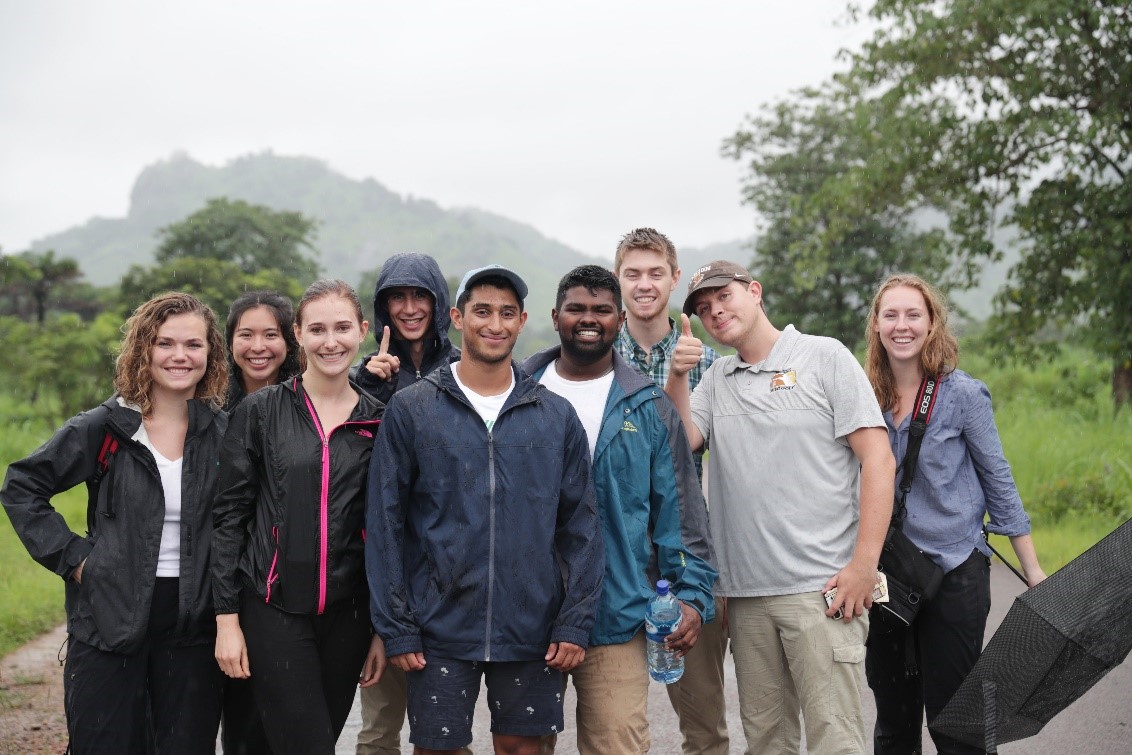 Global Social Impact Fellowship Logistics:
CINQ 388: Inquiry to Impact Workshop Series [1 Credit]: Weekly hands-on workshops and interactive seminars for all Fellows across all the GSIF projects.
CINQ 389: Inquiry to Impact Projects [2-6 Credits]: Separate sections for each project team. The team typically meets with the faculty mentor once a week; all project work is done outside of regular class times.
All full-day workshops will be held on weekends or holidays; meals will be provided.
Each team has the option of having a two-person team take a deep dive into the project for the Mountaintop Summer Experience. Additional students might be funded depending on project needs and availability of funds.
GSIF project teams are eligible to apply for the Langer Grant for International Creative Inquiry Projects, with funding
generously provided by Michael Langer '17, to help support their fieldwork activities.  
Unless marked as optional, GSIFs are expected to participate in all courses, seminars, and workshops. No exceptions.
Application Process
We don't expect applicants to know how to do these things. Just come prepared to learn.
Certain skills matter and are needed, but what we are looking for is passion, deep commitment, and work ethic. GPAs don't matter...much.
You should have the time in your academic and personal schedule for this commitment - don't overload just to do it.
2022 Global Social Impact Fellowship Projects
Global Inquiry to Impact projects are multi-year projects with interdisciplinary cross-functional teams engaging in the research, design, field-testing, and implementation of projects and social enterprises in low-resource and middle-income communities and markets. These ventures aim to deliver practical, sustainable, and scalable solutions to complex challenges including those related to food, energy, water, and health. Sustainability, in this context, refers to the notion that real solutions must be technologically appropriate, socially acceptable, environmentally benign, and economically sustainable. There is a recognition that ideas, presentations, and prototypes do not solve problems; the real challenge is in the implementation, assessment, and fast-paced pivoting to reach a higher sustainable equilibrium. The challenge is in the execution - getting the job done in partnership with diverse actors in an ethical, harmonious, and self-determined manner. As of Fall 2021, Global I2I projects are being championed in Sierra Leone, the Philippines, and Kazakhstan, in collaboration with local university and non-profit partners.
Sierra Leone: Ukweli Test Strips to Improve Maternal Health (PI: Khanjan Mehta, Creative Inquiry)
Sierra Leone has the highest maternal mortality rate in the world. This team is working on inexpensive (2-cent) test strips to screen women for Urinary Tract Infections and Preeclampsia in Sierra Leone. After receiving regulatory approval for the device from the Pharmacy Control Board, the team hired their first employee in January 2020 to mobilize communities, train health workers, and distribute test strips. Over the next year, the goal is to strengthen and expand field operations, design and implement effective messaging strategies, develop stronger data collection systems, and demonstrate the ability of the test strips to save lives with the goal of convincing the public health system (and donors) to integrate the test strips into the national healthcare system. The team will also explore how these test strips can be introduced in Liberia, Madagascar, and other countries with similar challenges. All majors welcome. We specifically need students with 1) marketing / graphic design skills, 2) journalism / theatre / public speaking skills, 3) data management and analysis skills, and 4) business / operations and systems engineering skills.
Sierra Leone: GRO Mushrooms (PI: Khanjan Mehta, Creative Inquiry)
Mushrooms grow fast! Commercial production of mushrooms can improve local food security, reduce malnutrition, and augment livelihoods. After tremendous success in Cambodia, this team is designing a commercial mushroom production ecosystem in Sierra Leone. After three years of work, the team has successfully jumpstarted oyster mushroom production with a local project manager now running operations. It's time to figure out how to stabilize and grow operations from 10 kgs/month to 1,000 kgs/month. Further work includes 1) problem-solving on mushroom growth issues as they arise in Sierra Leone, 2) (re)designing facilities for larger production volumes, 3) developing business / operational models for larger production volumes, 4) developing the market and marketing strategies for mushrooms, and 5) writing grant proposals and finding partners to scale operations. All majors welcome. We specifically need students with 1) experience working with mushrooms, 2) business/operations and marketing strategy development and execution 3) solid writing skills to pull together a bunch of proposals.
Sierra Leone: Sickle Cell Anemia Diagnostic Device (PI: Xuanhong Cheng, Bioengineering)
Sickle cell disease is prevalent in Sierra Leone and contributes significantly to the high mortality rate of children. Currently, diagnosis of sickle cell in Sierra Leone is mostly symptom-based since standard diagnostic equipment requires too much training and infrastructure to be implemented in resource-limited settings. To tackle this problem, students will develop point-of-care test strips for sickle cell disease and study the impact of diagnosis on patients' outcomes. The end goal of this project is to make the tests widely available in Sierra Leone as part of a program to identify and manage sickle cell patients. All majors welcome, but specific skills needed include: 1) wet bench experience to work with biological samples such as proteins, DNA, and blood; 2) mechanical and electrical engineering backgrounds to design and construct benchtop instruments for device automation; 3) experience and interest in prototyping imagers and processing images from the test strips; 4) experience and interest in health surveys and studying socioeconomic impact of diseases; and 5) solid writing skills to prepare proposals and research papers.
Sierra Leone: Mothers of Sierra Leone – Documenting Stories of Healthcare Innovation and Community Resilience
 (PI: Michael Kramp, English; Co-PI: Fathima Wakeel, College of Health)
Mothers of Sierra Leone is a documentary film project designed to showcase both resiliency of women in Sierra Leone and the specific accomplishments of the Sierra Leonean people to improve maternal health. Our three-year filming plan highlights innovations in prenatal care, clinical treatment, including midwifery, hospital delivery services, and emergency surgery, and postpartum care, including early childhood health. Students will be involved in filming, editing, interviewing, and distributing these documentaries. We will release early iterations of this project as a video series for distribution in Sierra Leone and make our work available to our collaborators. The documentaries will (1) demonstrate the effectiveness of Sierra Leonean health innovations and (2) help to recruit additional individuals to participate in the healthcare industry. Ultimately, the team plans a feature-length film to be released to a global audience that highlights the impacts and innovations of the people of Sierra Leone.
Sierra Leone: Diagnosing Autism in Africa (PI: Kristi Morin, Special Education)
Autism spectrum disorder (ASD) is considered a global health concern; however, nearly everything we know about autism comes from research in high-income countries. The dearth of research on ASD is particularly problematic in countries across Africa. A recent review revealed that Africa had the least amount of autism research conducted in the world, likely due to the lack of a culturally appropriate screening and diagnostic tool to identify individuals with ASD. Through this project, we will evaluate tools commonly used in the United States to diagnose autism in order to assess their feasibility and cultural appropriateness. We will also collect qualitative data during a trip to Sierra Leone to inform the development of a freely available, culturally appropriate screening and diagnostic tool for use in West Africa. If travel is not possible due to ongoing COVID-19 restrictions, we will conduct a systematic review of disability research in Africa. Students invested in the project will have the potential to receive peer-reviewed publication and presentations opportunities.
Sierra Leone: Food Product to Fight Malnutrition and Stunting (PI: Lori Herz, Bioengineering)
Malnutrition and micronutrient deficiencies are common in Sierra Leone, especially among children under five years of age.  This often results in stunting, wasting, developmental delays, and mortality. Over the past two years, we have developed several nutrient-dense foods at Lehigh, which were prepared and tested in Sierra Leone in 2019.  The next phase of the work includes improvement of the recipes, investigating methods of preservation and packaging, analysis of the products for nutrient levels, shelf-life testing, designing a clinical study, and creating and executing a business plan. Students on this project should have a passion for global health and experiential learning. 
Philippines: PlasTech Ventures – Empowering Women by Recycling Plastic to Produce High Value Products
 (PI: Ganesh Balasubramanian, Mechanical Engineering; Co-PIs: Brian Slocum, Wilbur Powerhouse Design Labs, and Don Morris, Environmental Sciences)
This project aims to provide income opportunities for women in a partnering local community (Malabon, Metro Manila, Philippines) by building a community-based, micro-recycling facility.  Now in year four of the project, the team has made some real progress in narrowing down an affordable group of technologies and assessing the viability of plastic as a building material.   The focus in the upcoming year of the project will be to finalize a design for a construction brick, prototype a method for manufacturing at scale, and further assess the market opportunities in the Philippines. Through this project, women in the community will be manufacturing up-cycled products themselves, thus emphasizing gender equality and empowerment. Aside from finished goods, useful raw materials may also be made and supplied to local manufacturers to turn into high-value products. All majors are welcome.  We specifically need students with an understanding of mechanical engineering, materials science, and/or supply chain management. While the primary emphasis of this team will be on the Philippines, a two-person sub-team will collaborate with faculty and students from the Indian Institute of Technology at Kharagpur, India. Subject to the travel situation improving, this sub-team will be conducting research in India during Summer 2022.
Philippines: Zero Hunger School
 (PI: Ganesh Balasubramanian, Mechanical Engineering; Co-PI: Elmer Soriano, Civika Asian Development Academy)
This project team will work closely with the Civika Asian Development Academy and the Development Academy of the Philippines, Philippines-based organizations that develop public and private sector leaders throughout Southeast Asia through project-based work. The direct focus of this project is the creation of a "Zero Hunger School" using data-driven and data-centric approaches to alleviate hunger and food supply challenges in smaller provinces and villages of the Philippines. The Zero Hunger School will do this by inviting women from small villages to attend a six-month "school" that leverages indigenous knowledge as well as modern agricultural techniques to help them grow more food to supply their villages with nutrition and sustenance. The team is currently in early design stages, developing a curriculum and establishing partnerships, and the goal for the upcoming year is to pilot-test "classes" and refine the model before conducting fieldwork in the Philippines. All majors are welcome, particularly those with strong interests in food systems, systems engineering, global studies, and data analysis. 
Philippines: Innovative Desalination Technologies (PI: Carlos Romero, Energy Research Center)
Lack of access to drinking water is a widespread problem, a particularly frustrating one in island nations that are surrounded by water which requires effective technological interventions to be consumable. One such technology is desalination, and at Lehigh's Energy Research Center, there are active experimental and computational studies of a method called direct contact membrane distillation (DCMD) that holds tremendous potential for efficiently creating freshwater supplies. In its initial year as a GSIF project, students will be concentrating on the technology and understanding the challenges and opportunities before pivoting to implementation in the Philippines. All majors welcome, particularly those with interests in environmental science, mechanical engineering, and energy systems.
Philippines: TB Innovations and Health System Strengthening **This project is a joint effort between Lehigh's Office of Creative Inquiry, Civika Asian Development Academy, and the Computer Science & Business program at Lehigh University. Hence it is currently only open to CSB capstone students**
TB continues to be a significant health problem in the Philippines, with over 324,000 new cases of TB estimated in 2015. Of these, 17,000 were classified as multidrug-resistant cases. While treatment success rates are high – estimated at 90% - only cases notified to the National TB Program are included in these statistics, and so there is a significant number of undiagnosed or unreported missing cases excluded from the analysis. The US Agency for International Development (USAID) has provided a five-year grant for this project. Lehigh Creative Inquiry is participating in this program and seeks to identify, test and implement tools, processes and products to assist in this effort.  The CSB Capstone team will be responsible for the IT portion of this effort, including the development of solutions and support tools.
Kazakhstan: Air Quality Initiatives in Almaty (PI: Dinissa Duvanova, International Relations)
Almaty, Kazakhstan experiences extremely poor air quality due to coal fired power plants and transportation emissions. With the projected population growth and lack of investment in pollution-reducing technology, poor air quality is likely to continue harming public health. In the long term, the Air Quality in Almaty team aims to reduce respiratory illnesses due to air pollution. Currently, we are collaborating with an organization called AirVision and using their mobile application to increase awareness and reduce air pollution exposure. We plan to take a multifaceted approach to popularize the app this coming semester through educational campaigns and social media advertisements. By researching how other countries have reduced their air pollution and combining that with our knowledge of Almaty, we intend to propose innovative solutions to AirVision and local government entities. We are in the process of conducting an opinion survey to study the habits and current knowledge of Almaty citizens regarding air quality. This research will allow us to formulate targeted approaches to reduce air pollution exposure. This team welcomes students with diverse academic backgrounds, such as majors in environmental studies, journalism, health medicine and society, earth and environmental sciences, chemistry, sociology, economics, computer science, marketing, political science, and chemical and environmental engineering.
Kazakhstan: Save Tuba (PI: Khanjan Mehta, Creative Inquiry)
Almaty, the commercial capital of Kazakhstan and a major hub in Central Asia, is facing enormous challenges with sustainable urban development. Uncontrolled migration burdens the housing infrastructure, outdoor air quality, access to clean water and waste-water management systems at the constantly-growing periphery of the city leading to negative environmental consequences which compromise economic growth. For example, despite investing over $500M over the last 15 years in recycling systems, only 11% of municipal solid waste is actually recycled. Tuba is a critically-endangered saiga antelope native to the Kazakh Steppes. 'Save Tuba' is a sustainability education platform for Almaty's youngest citizens that connects knowledge, inquiry and action to help students build a healthy future for their communities and the planet. Kazakh students, with guidance from their teachers and families, start recycling, reduce litter, educate their peers, use public transportation, etc. to earn points in a friendly competitive setting. Save Tuba enables K-12 students and their teachers to embark on a series of real, relevant, and meaningful sustainability actions with the goal of long-term behavioral change. The Lehigh team is collaborating with diverse partners to develop and validate the app and pilot-test it with schools in Almaty. We are seeking students from all majors across campus with a deep interest in sustainability education and action. Students with graphic design skills and app design/development skills are particularly welcome.
Kazakhstan: Research Integrity in Kazakhstan (Co-PIs: Bill Gaudelli, College of Education; Dinissa Duvanova, International Relations; Khanjan Mehta, Creative Inquiry, Matt Dohn, Lehigh Research/IRB)
IRBs (Institutional Review Boards) are bodies established by governments to review and monitor research involving human subjects. Lehigh, like all U.S. universities which conduct research, has an IRB and approval is required for any research project that involves working with humans, whether it be conducted in the social sciences, humanities, natural sciences, or engineering fields. Kazakhstan, with dozens of universities and research institutes, has no IRB process for human subjects research outside of clinical (medical) research. As the country continues its transition to a knowledge economy and more research studies are undertaken by universities, there is a need for better research protections and building a culture of research integrity. In collaboration with faculty and students at Almaty Management University and other Kazakh stakeholders, this project will focus on developing the framework for an IRB-like body in Kazakhstan, building necessary partnerships and getting buy-in, and executing on this shared vision and strategy. The result of this work will be to greatly expand Kazakhstan's research capabilities and the integrity of that research, and to ensure that it is always conducted in an ethical manner. All majors are welcome to apply.